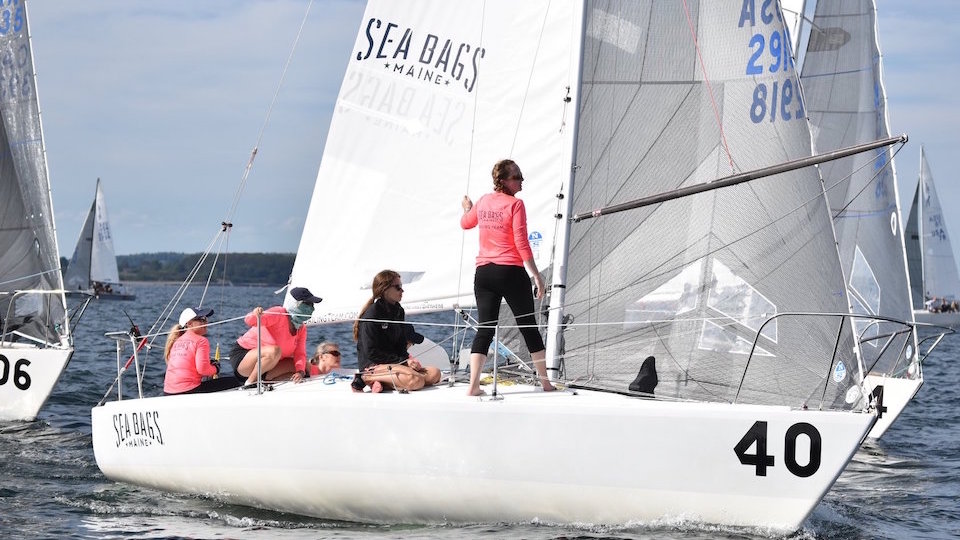 Sea Bags Sailing Team Takes on Annapolis
Every year about this time, most sailors in Maine and New England have given in to the colder temperatures and cranky winds and hauled their boats. No so for a group of stout-hearted women who are gearing up for one last race on the high seas.
10/25/18
Who are these unflappable and tenacious women? Together they are the Sea Bags Women's Sailing Team and this weekend they will challenge over two dozen world-class sailors in a series of races on the Chesapeake Bay. The three-day East Coast Championship happens in the choppy waters off Annapolis, Maryland. It will be a grueling test of strength and precision for the six women who will be pushing their 24-foot J-boat to the limit. But that's the way they like it.
For a few years now, the women of the Sea Bags Sailing Team have hoisted their sails in the midst of a sport dominated by men and consistently proven they've got what it takes to win. In 2017, they won the Jaeger trophy as the top all-female team in the J/24 World Championship held in Mississauga, Canada. And just this past June at the J/24 District 1 Championship in New Castle, New Hampshire near Portsmouth, the women of the Sea Bags Sailing Team—with their never-give-up attitude and polished sailing tactics—claimed a berth in the prestigious 2019 J/24 World Championship which will be held in waters off Miami, Florida next October.
Team skipper Erica Beck Spencer, of Portland, Maine—who was the top female skipper in the 2017 J/24 World Championship—is looking forward to this weekend's races on the Chesapeake Bay. "Our amazing team of passionate and incredibly determined women looks forward to every race, every challenge, and we are slowly but surely moving up in the ranks of the J/24 class," says Spencer. "We are constantly improving our skills and learning from our competitors. Without a doubt, the number one accomplishment of our 2018 season was qualifying for the 2019 J24 World Championship."
So, at some point this weekend while you're relaxing with your feet up, think winning thoughts for the Sea Bags Women Sailing Team and shout out loud "GO GET 'EM!"
***
Sea Bags has a long history of supporting various sailing regattas and sailing teams. Along with being pillars of sportsmanship in world-class racing events, Sea Bags sailors are ambassadors of our environment. Throughout the year the Sea Bags Sailing Team promotes the importance of recycling sails. Follow the Sea Bags Women's Sailing Team on Facebook.
Photo Credit: Christopher Howell
SHARE YOUR
#SEABAGSIGHTING
Signup for email,
and Save 10%!