SHARE YOUR
#SEABAGSIGHTING
Signup for email,
and Save 10%!
Dahlov Ipcar's Underwater World
"In both my painting and my writing, I create worlds of the imagination. I transform ordinary reality into a reality that has special meaning to me. I hope it will also have special meaning to others. "—Dahlov Ipcar (1917-2017)
8/7/19
A limited-edition collection from Sea Bags has brought the magical world of Dahlov Ipcar to life on recycled sail cloth totes and accessories. Utilizing illustrations from Ipcar's classic Deep Sea Farm, the unique collection features a tote, beachcomber bucket and wristlet.
"When we saw Ipcar's illustrations, we knew Deep Sea Farm was a must. The turquoise, aquamarines and greens play into what we are doing at Sea Bags so well," said Tara Knupp, Sea Bags Product Line Manager. "Not only that, but Deep Sea Farm is a beautiful story that speaks to sustainability, which is obviously a huge part of our mission at Sea Bags."
Ipcar's passions also extended to education. She dedicated her life to educating children of all ages through her art and storytelling. "We connected immediately to the educational component. Dahlov felt it was important for her to share the education of art with children," said Tara. "When we tell the Sea Bags' story, we educate people about the importance of sustainability and keeping an eye on our environment. That is why Deep Sea Farm jumped out at us."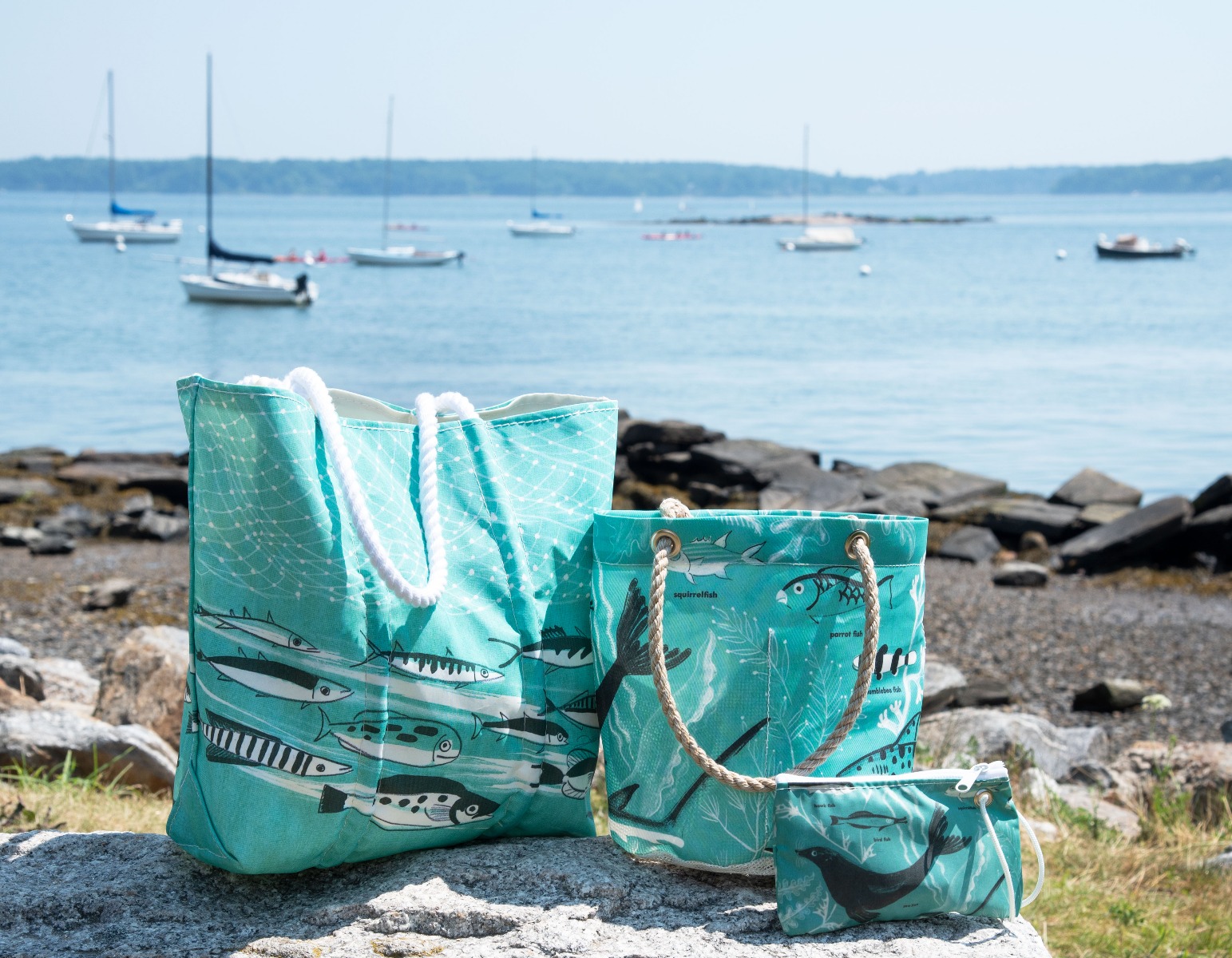 To bring the work to life on recycled sail cloth, Sea Bags partnered with Rachel Walls Fine Art, the curator of Ipcar's entire art collection. Housed in an historic brick building on the grounds of Fort Williams in Cape Elizabeth, the gallery is an open door to the life's work of Dahlov Ipcar, whose vibrant paintings, soft sculptures, children's books, and illustrations reflect how deeply she cared about her family, living creatures and protecting the environment.
"Dahlov would be ecstatic to see her designs on bags and have her art being used on something that utilitarian," said Rachel Walls. "She once said, 'Some artists don't like to see their art commercialized, but I actually love it.'"
Sea Bags and Rachel Walls Fine Art will celebrate Dahlov Ipcar's work and the limited-edition collection with a reading of Deep Sea Farm at Sea Bags' Portland retail store located at 25 Custom House Wharf on Saturday, August 10, 2019.
The limited-edition collection of recycled sail cloth totes and accessories, as well as a bundle of the beachcomber bucket and Deep Sea Farm book, will be available online and in each of our 25 retail stores.