SHARE YOUR
#SEABAGSIGHTING
Signup for email,
and Save 10%!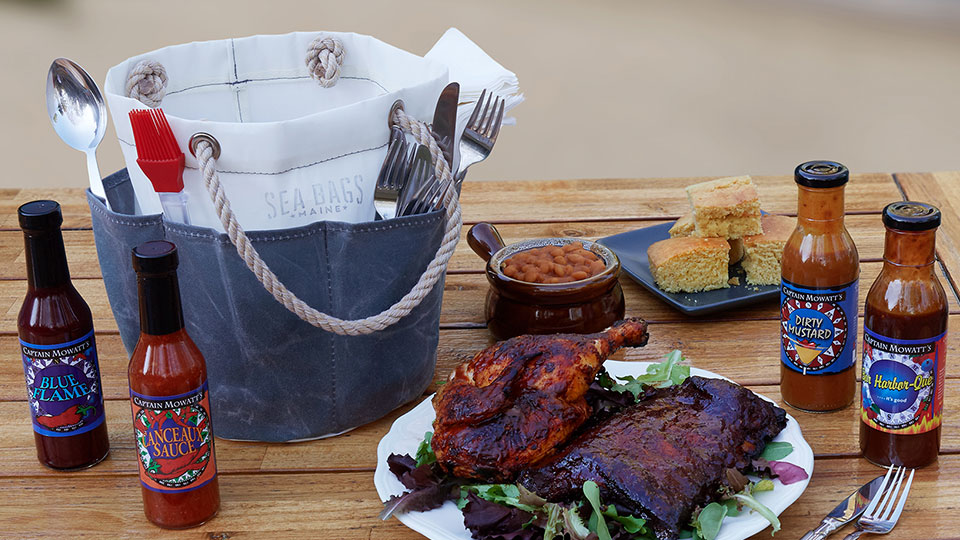 Father's Day Gifting Ideas
Let's face it, we've all had to get more creative gift giving this year. At Sea Bags, we want to make it a bit easier with a few ready-to-gift ideas for Father's Day and other DIY-ideas that allow you to include some of his personality and taste. Whether he is a sports fan or loves a day at the beach, it is easy to turn some of his favorite activities into a thoughtful bucket for Father's Day.
6/4/20
The Grilling Guy

Upgrade his grill game and get him one of our ready to gift Captain Mowatt's Tool Buckets. Each Bucket comes with 4 of Captain Mowatt's famous sauces and a recycled sail cloth tool bucket, which is machine washable, making it an ideal outdoor organizer. These buckets can be shipped directly for a contact-free delivery in time for Father's Day.

The Golfer

Gift him the gift of on-course organization in style. Grab one of our all-purpose Performance Tool Buckets and fill it with golfing essentials. High performance sails give racers an edge on the water and create a sleek design to give dad an edge on the course. Add some new golf balls and tees in the outer pockets and a new golf shirt on the inside.

The Tailgater

Grab one of our Life is Good Bucket List Beverage Buckets and round it out with a six pack of his favorite local brews. Throw in a new bottle opener and a new cap or some tickets to a game.

The Outdoorsmen

For the dad who loves connecting with the outdoors our Tool Bucket makes a great starting point for a gift basket centered around his favorite hobby. Start by including some essentials like bug spray, a new headlamp, and an insulated bottle.

The Yard Guy

Get dad the perfect summer backyard gift. Our Gardener's Bucket is a great holder for outdoor tools, work gloves, and seeds.

The Dog Guy

Fill a Sea Bags customer favorite with treats and toys for the dog and include a few for dad too! When the celebrating is over the bucket makes a perfect storage for dog toys or tools in days to come.

The Fisherman

Whether he is a seasoned fisherman or a novice, get him a basket that he is sure to use. Our Marlin Beverage Bucket is a great collapsible cooler he can bring with him on his next fishing expedition. Get Dad ready for his next trip by filling the bucket with a few beverages, some new lures and a few of his favorite outdoor treats.

The Beach Guy

For the dad who loves a day in the sun, put together a beach day gift bucket. Include some all-natural sunscreen, a new hat, his favorite paperback book and a fresh deck of cards.

The Lobster Lover

Seafood is the perfect accompaniment to any Father's Day. Fill our Lobster Claw Bucket with the makings for a lobster roll feast - crackers, bibs, a jar of lobster bisque and an ice pack to keep it cold!