SHARE YOUR
#SEABAGSIGHTING
Signup for email,
and Save 10%!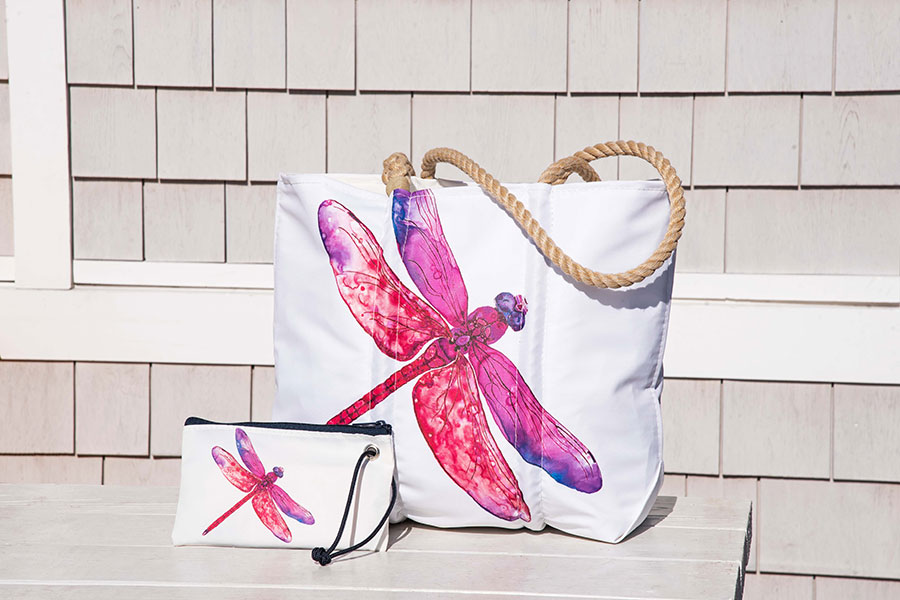 The Power of Building Community Connections
A commitment to community is a cornerstone of the Sea Bags brand. This cornerstone is upheld in so many ways including charity, collaboration, and supporting the people we call our neighbors and friends.
04/13/22
In Maine, communities are close-knit and relationships are nurtured over long periods of time. Our relationship with Maine Cancer Foundation began through a personal connection Beth Greenlaw, co-founder of Sea Bags, had to the organization. We are now entering our 16th annual Cure Campaign between Sea Bags and Maine Cancer Foundation. As in previous years, we are donating 20% of all sales of the Cure Collection, this year a Watercolor Dragonfly created by Maine Artist Valerie Paul, to the Maine Cancer Foundation in support of cancer research.
Our ties to our local community have led us to collaborate with a variety of artists who spend their days creating brilliant renditions of what makes our state so beautiful. Maine artist, Valerie Paul, is one of those people. A third-generation artist living in a coastal town in Maine, Valerie's path to working with Sea Bags has a similar tone. Initially selling her marine-inspired prints in our shop, it was a natural progression to interpret Valerie's art onto a Sea Bags tote.
"Working with Valerie on these projects is like working with an old friend. She brings stories and emotion into her artwork, and I always want to know more about the inspiration behind her paintings." - Tara Knupp, Director of Merchandising and Product Development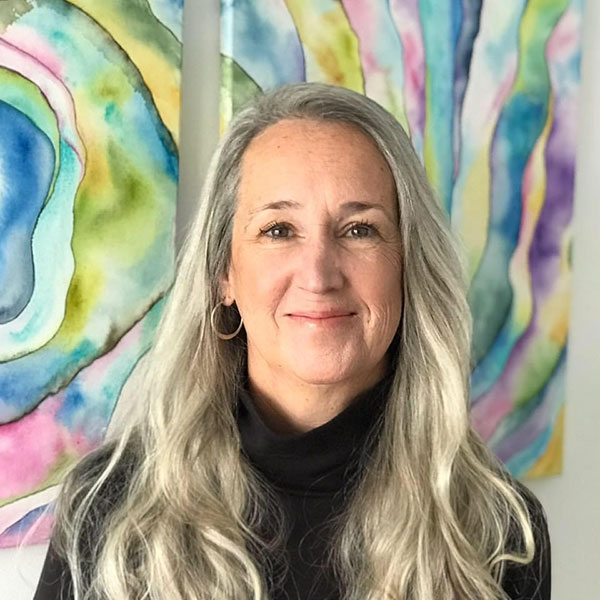 Typically, Valerie focuses her art on marine animals and coastal scenes, but when our Director of Merchandising and Product Development, Tara, reached out and asked Valerie if she would be interested in creating a dragonfly. Valerie spent the next few days researching, and after a deep understanding of the symbolism of the insect, how they hatch, and sifting through photos upon photos, she was in love and agreed to the project.
"The dragonfly is symbolic for change and overcoming challenges and adversity for many people." - Valerie Paul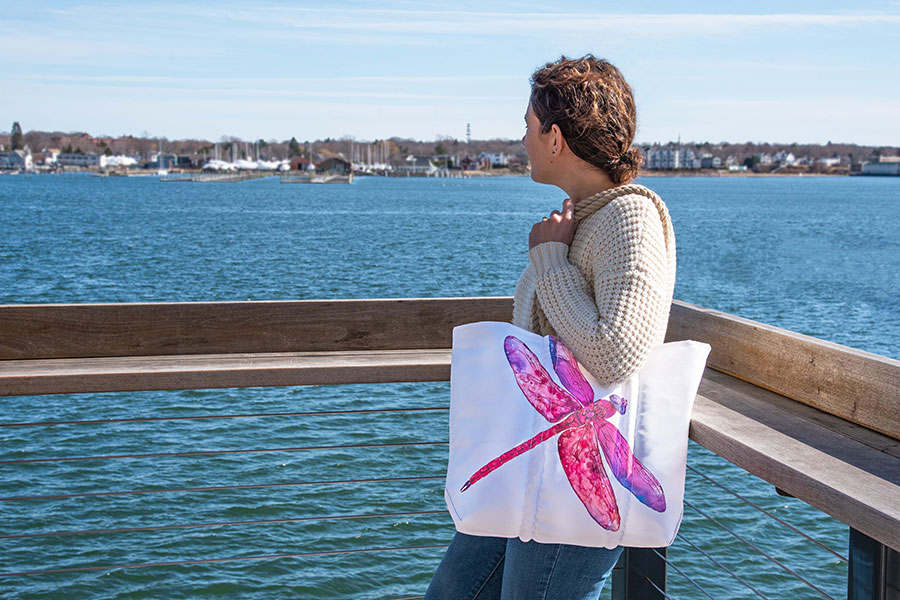 After the Watercolor Dragonfly Collection was added to our assortment in 2021, Valerie shared with us that she gifted a friend battling breast cancer the dragonfly wristlet with a note tucked inside explaining the symbolism that she has become so fond of.
Valerie's story inspired us, and this year's Cure collection was born as a pink version of her beautiful watercolor dragon fly. "The color pink inspires hope and progression. I am grateful to Sea Bags to be able to participate in raising money for the Maine Cancer Foundation. It's a wonderful and humbling project to take part in. Cancer touches everyone, and I have been impacted by it in my own family." Sea Bags is thrilled partner with Valerie and her unique creative talents for a partnership that means so much to us, communities in Maine, and to Valerie personally.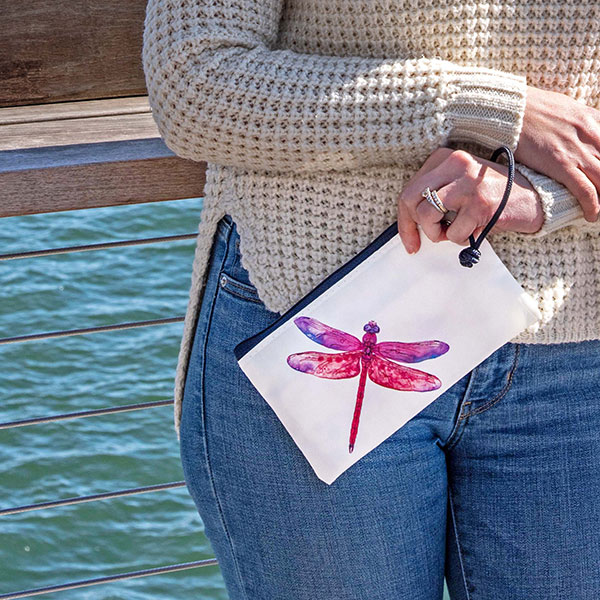 The Maine Cancer foundation's mission is to reduce the impact that cancer has on Maine families and communities. Currently, Maine's cancer rates are higher than the national average. The funds raised by the foundation, and by Sea Bags, are used to reduce cancer rates in Maine by supporting state-wide prevention, early screening and detection efforts, and help Mainers gain access to the best care in the state, regardless of their income.
The 2022 Cure Collection releases on April 1st, 2022. 20% of all sales will be donated to the Maine Cancer Foundation.
Sign up for email updates: