SHARE YOUR
#SEABAGSIGHTING
Signup for email,
and Save 10%!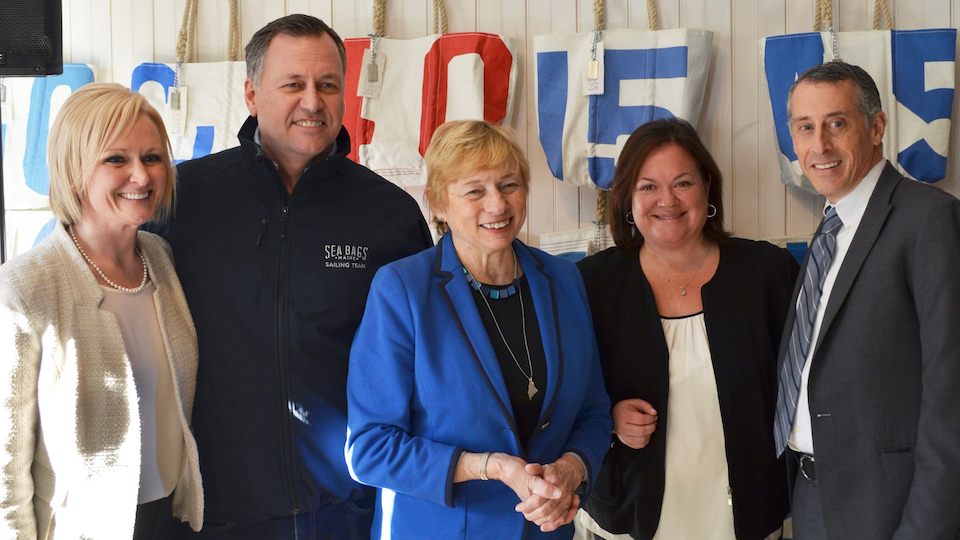 Taking Business to a New Level
How does a mid-sized company continue to grow, keep customers engaged, and provide the most satisfying shopping experiences? At Sea Bags, we believe part of the answer lies in a commitment to innovation and new technology.
12/21/18
The challenges of innovation in manufacturing pale in comparison to solutions involving technology and data management. Think about it: every day the world creates 2.5 quintillion bytes of data. That's enough to fill 125 million iPhones.
We're excited to take an important step forward this week with our early adoption of Spectrum's Business Internet Gig service. Designed specifically for Maine's small and medium-sized businesses, this technology is on par with that found in large metropolitan areas, like New York City.
At a news conference on Thursday, December 20, at our flagship retail store on Custom House Wharf, Charter Communications announced this new offering and celebrated the business opportunities for growth that will be afforded by this improvement in internet connectivity. The new gigabit service will allow us to have ten times our current bandwidth, improving internet speed company-wide and allowing for faster connections for design and printer transfers between our headquarters and warehouse. There was much fanfare and special guests, including Governor-elect Janet Mills, Portland City Manager Jon Jennings and Maine State Chamber of Commerce President Dana Connors.

While folks don't associate Sea Bags with technology, we in fact, have worked hard on innovation. We have worked with the manufacturers to be the first to dye sublimate and to auto-zig on used sails. Both of these processes allow us to do custom designs and both require transferring data to the equipment. Awarded a grant from Maine Technology Institute early in 2018, we're excited to use our faster speed service along with investments being made to expand our capabilities in highly customized manufacturing. Being part of growing Maine's cutting-edge technology ensures economic growth and successes for more businesses. It's a win-win for Maine citizens.
The timing is perfect. Over the past year, we've grown dramatically, swelling to 140 employees, expanding our manufacturing and warehouse spaces, and extending down to Florida with the opening of our eighteenth Sea Bags store.
Watch the full press conference below.