SHARE YOUR
#SEABAGSIGHTING
Signup for email,
and Save 10%!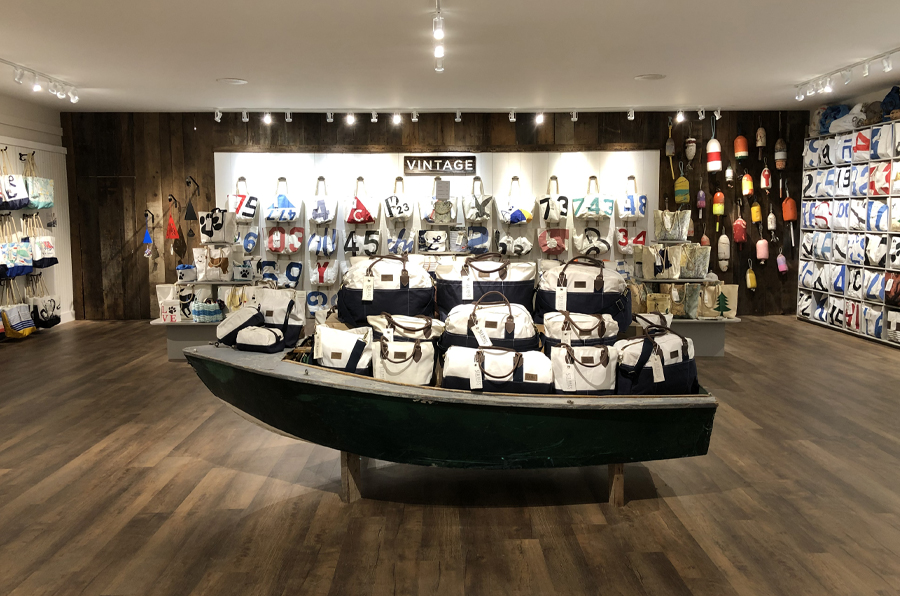 Marine Salvage Meets Sustainable Retail at Sea Bags
It's clear that at Sea Bags, we enjoy rethinking the way materials can be used, whether turning recycled sail cloth into bags or utilizing an old pea boat and transforming it into a retail store fixture. Reusing materials in our retail stores is one of our primary design elements, and we are always trying to push this concept further. Below are 5 of our favorite recycled materials showcased across our nearly 40 stores.
10/13/21
1. Lobster Shack Inspired Vintage Walls
Our stores are full of features that complement our newest Sea Bags products and classic customer favorite designs. We reclaimed shingles from a 120-year-old barn in Bangor, Maine to create the facade of a "lobster shack" inside our new Flagship store. The lobster shack is the backdrop for our Vintage Insignia Collection. It is an homage to an iconic part of Maine's coast, which is dotted with small shacks that lobster fishermen use to keep traps, bait and all their tools of the fishing trade. Buoys are often stored by hanging them on the outside walls of the shack, creating a bright collage of texture and color. The buoys showcased in our retail stores are sourced from up and down the East Coast and come occasionally from beach cleanups that our Sea Bags Crew participates in.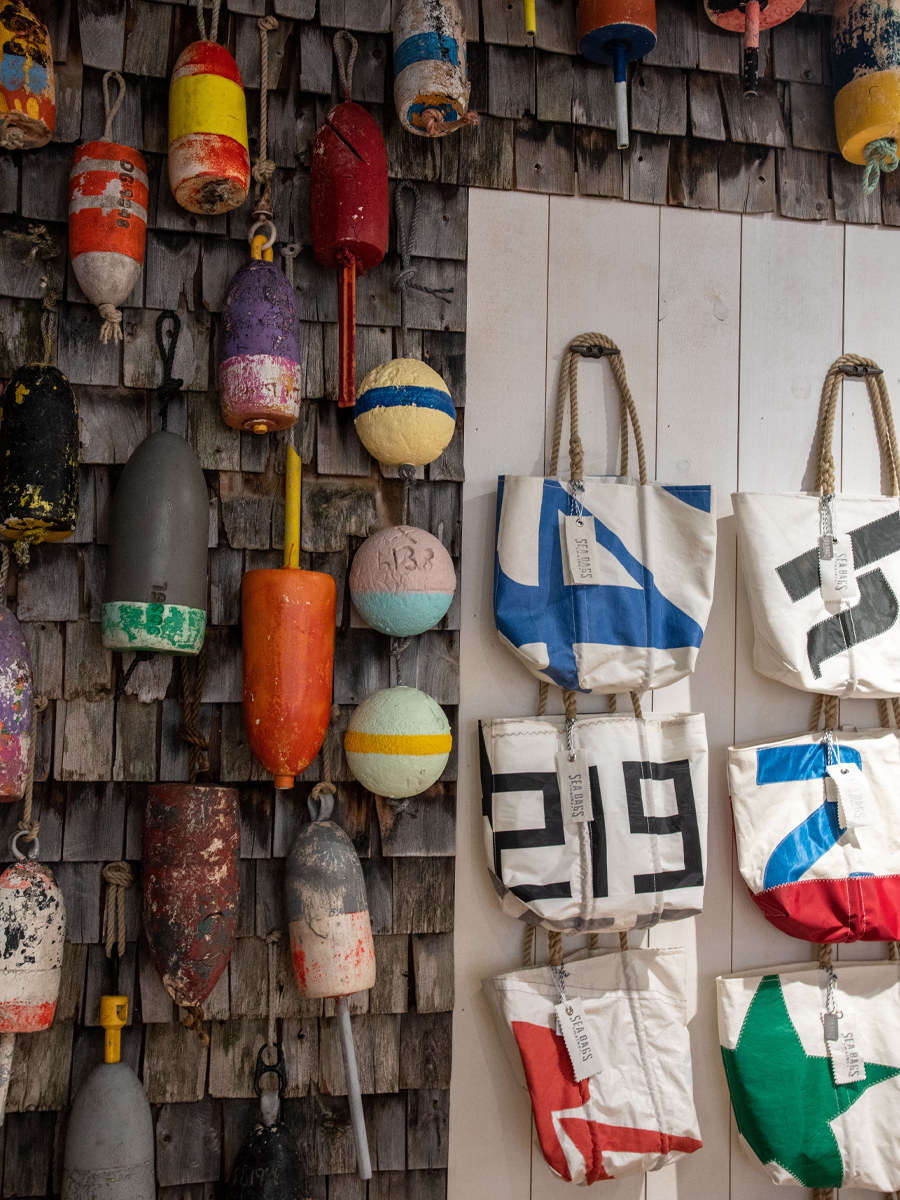 Flagship, Portland, Maine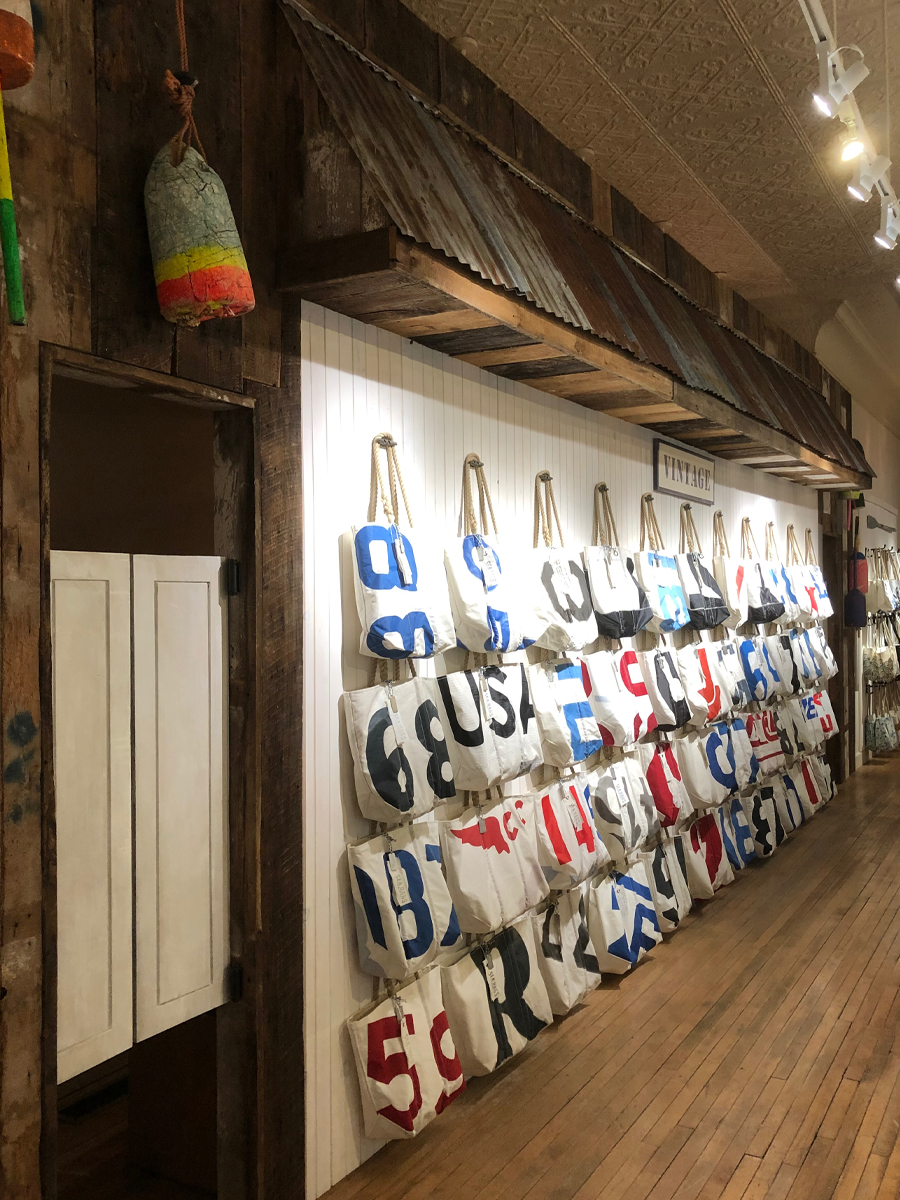 Harbor Springs, Michigan
In our Harbor Springs, Michigan store, we reclaimed metal sheeting and barn board to create a lobster shack eave and soffit. The barnboard itself dates to the early 1900's, offering an authentic and weatherworn backdrop for our Vintage bags.
2. Reclaimed Barn Board
Barn board is a reclaimed material we've used for years in many of our stores. Most of our check-out counters have been created using this sustainable resource, and we have also used it in creating store fixtures and interesting display walls. The barn board wall in our Flagship store came from a 150-year-old barn in Norridgewock, Maine. You can also find reclaimed barn board in our stores in Harbor Springs, Charlevoix, Traverse City, Freeport, Sarasota, and more! Our favorite part: the uniqueness of each reclaimed piece. Each board has a slight variation in color and feature unique and authentic characteristics, exposing its past life.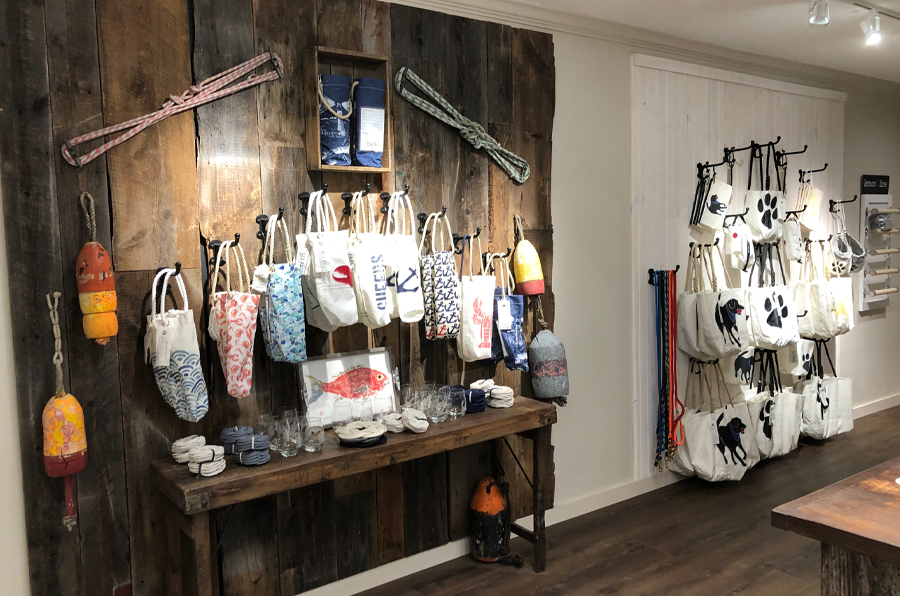 Traverse City, Michigan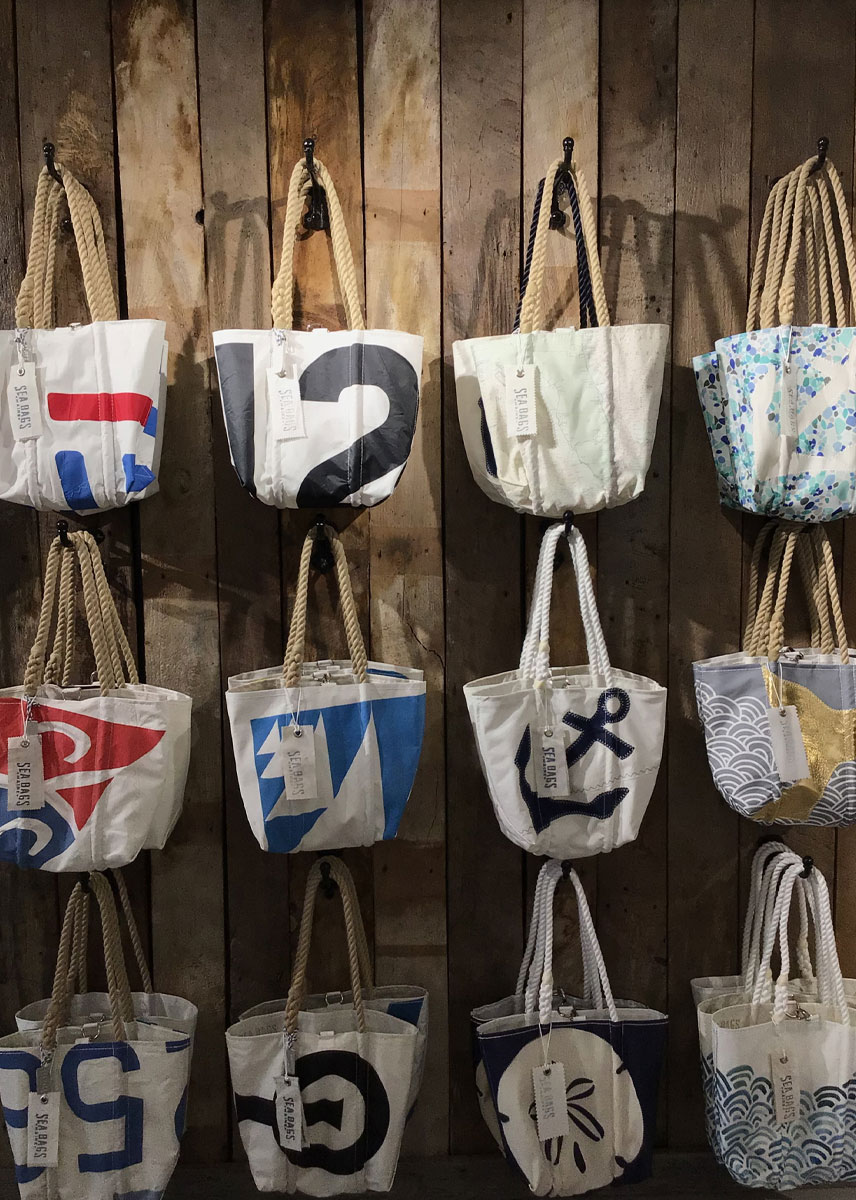 Sarasota, Florida
3. Marine Salvage
Reclaimed marine items are a staple in each of our stores. Utilizing marine salvage as decoration not only keeps these items out of landfills, but also reinforces our authentic ties to the working waterfront, where we receive sails from customers and make our bags by hand to this day. Customers love to hunt for what they might see amidst the salvaged props, such as glass fishing floats, colorful buoys, fishing nets, and regatta flags.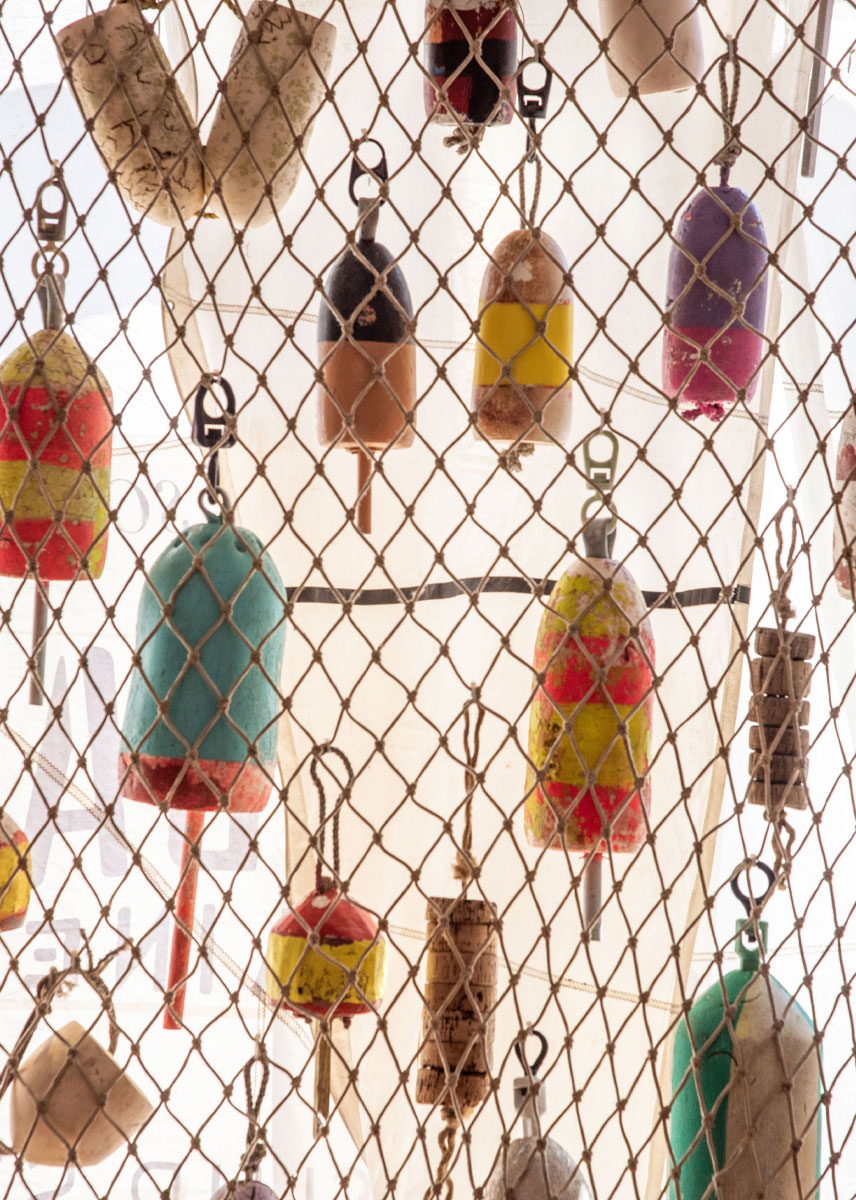 Flagship, Portland, Maine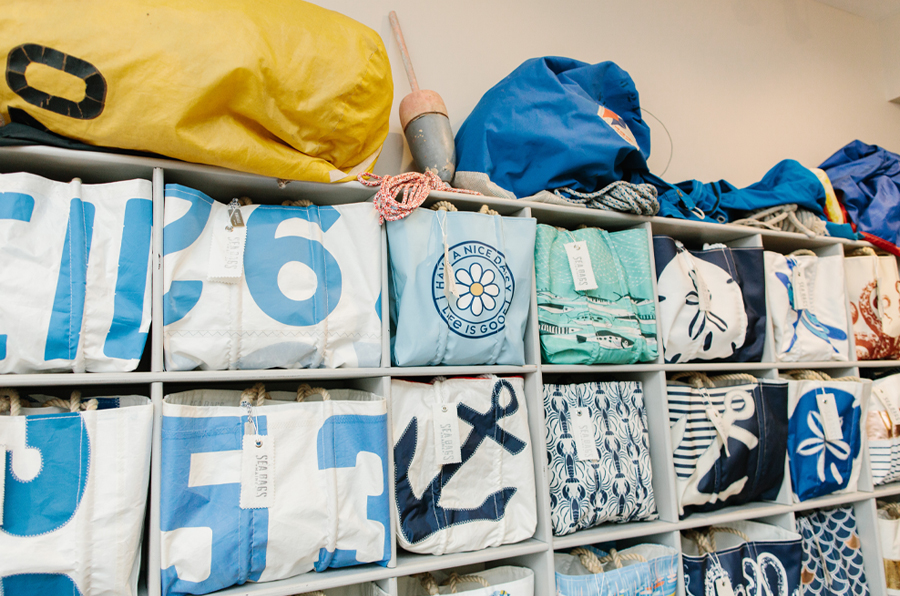 Charlevoix, Michigan
4. Boats
Our reclamation of marine materials, whether it be sails or fishing nets, is a constant exercise in reimagining an item's next purpose. Boats were originally designed to be water-faring vessels, but in a Sea Bags store, they become a vessel to showcase our Chebeague Travel Collection. Our Flagship store exhibits a real mahogany pea boat, originally used in Cape Cod, MA to ferry crew and gear from dock to vessel. Also in our Freeport store, we now have a small sailboat named "The Dolphin" on display.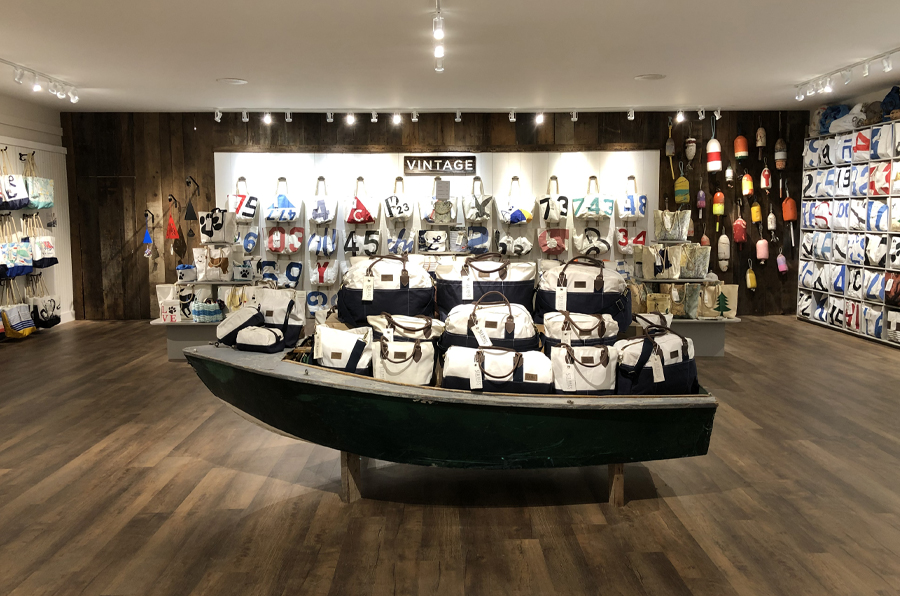 Freeport, Maine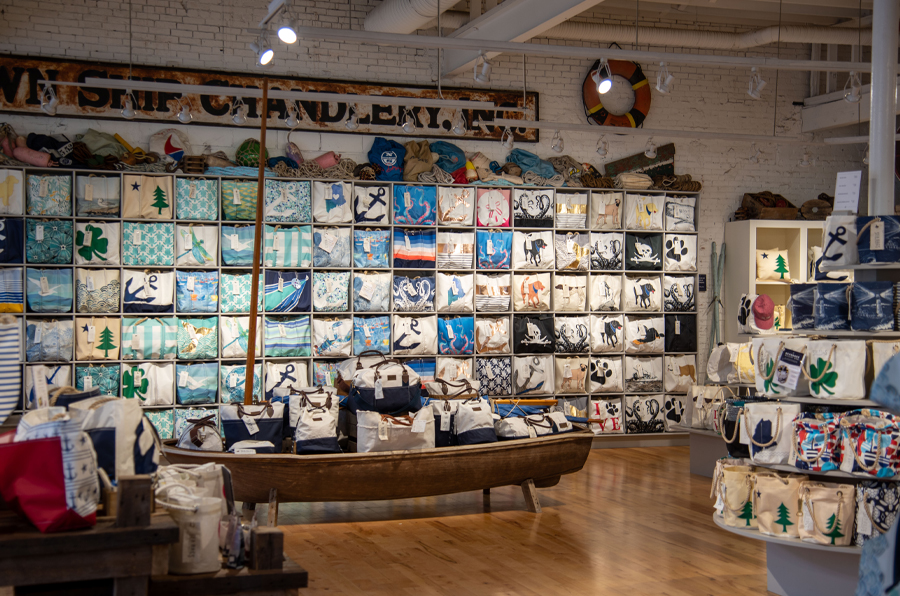 Flagship, Portland, Maine
5. Boat Oars
Ranging in length, color and finish, our wooden boat oars are rescued from boat salvage yards and given new life, just like our sail cloth. The perfect addition to our store walls, they pay tribute to the variety of sailboats from which we receive our recycled sail cloth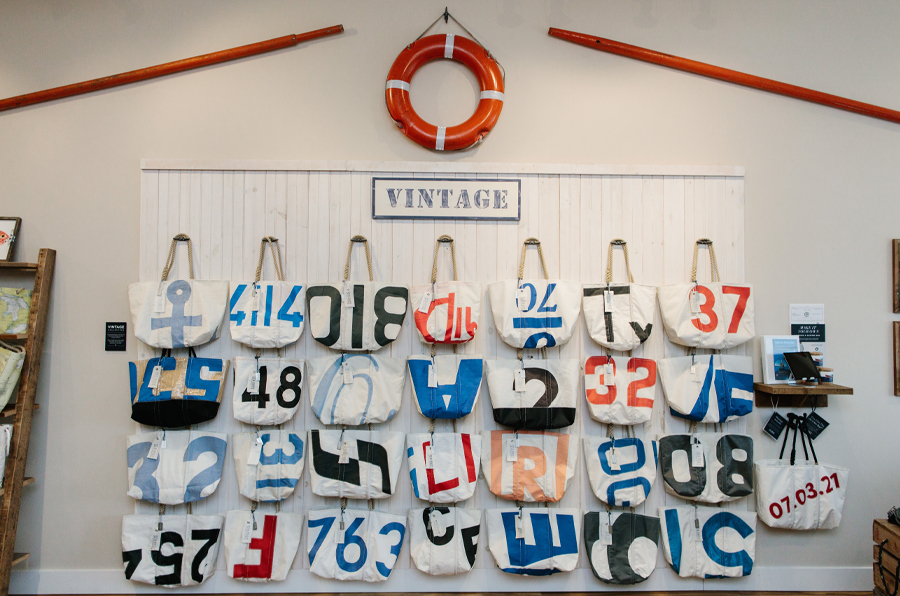 Charlevoix, Michigan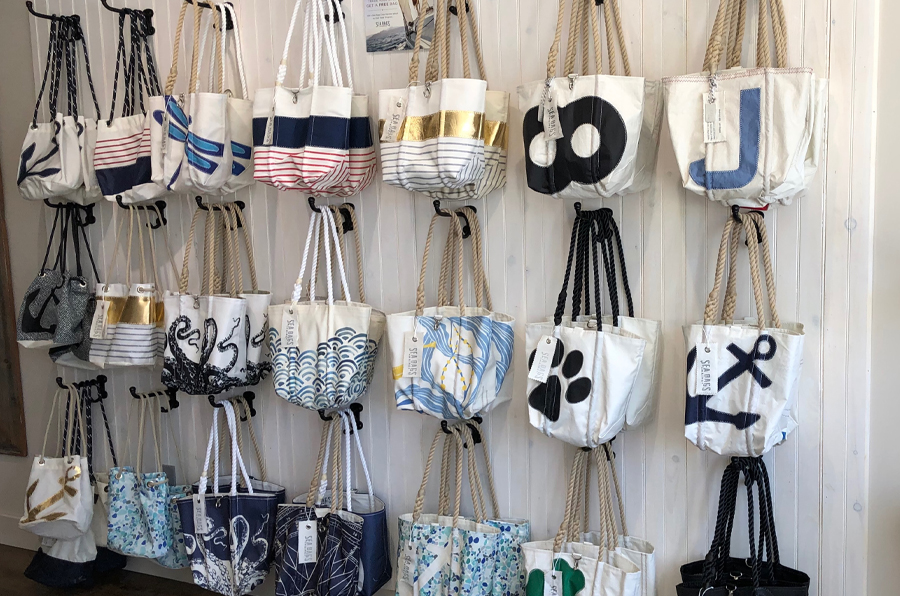 Saugatuck, Michigan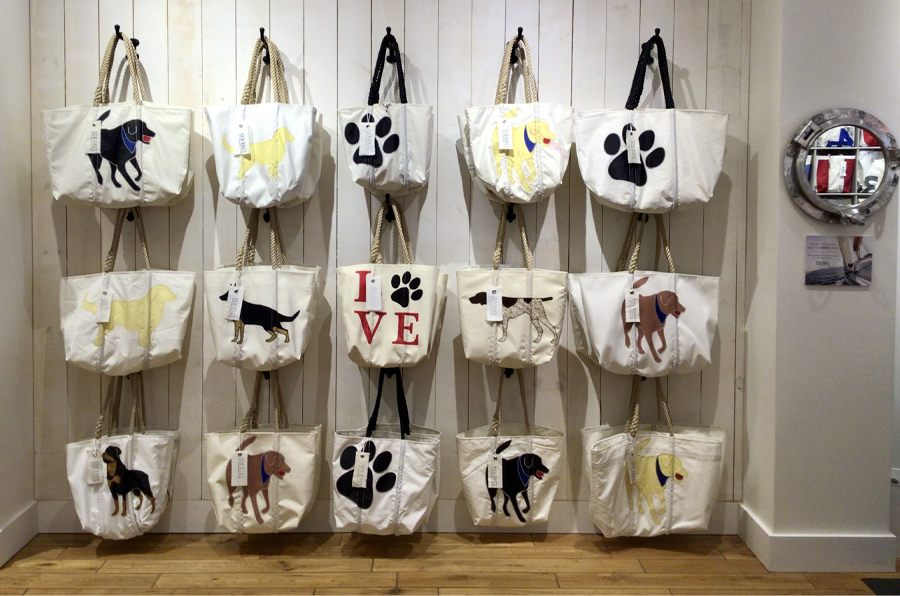 Burlington, Vermont
Come see these unique fixtures for yourself! Stop by a store near you to see what you can find among our repurposed elements, and we hope you'll also find a Sea Bags tote you just can't live without. Do you have marine salvage or sails to donate? Contact our Sail Trade Team and they can help you make more space in your garage or barn.
Sign up for email updates: