SHARE YOUR
#SEABAGSIGHTING
Signup for email,
and Save 10%!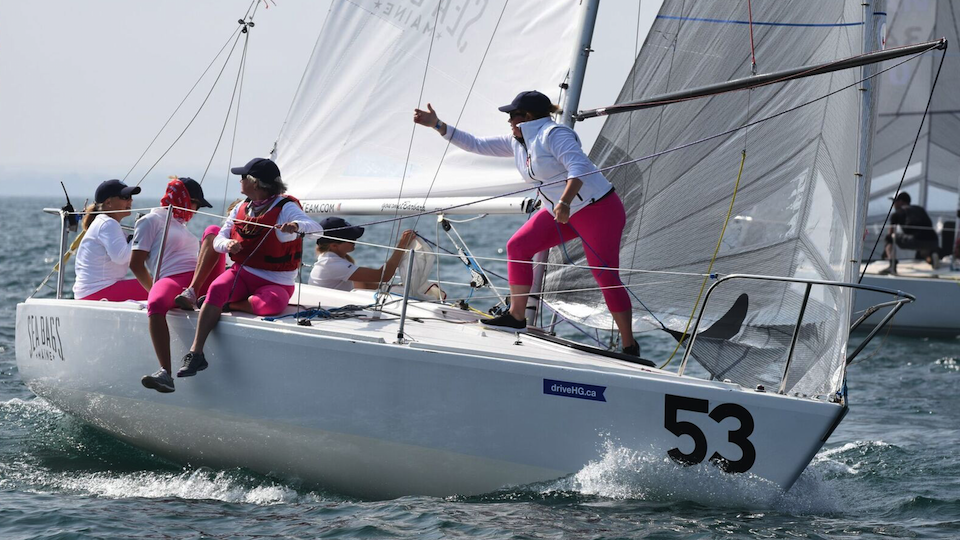 Skipper Log 9/20: Sailing with Jitters to Beat Those Heavy Hitters
Erica Beck Spencer, Sea Bags Women's Sailing Team Skipper, updates us on her team's journey to the J/24 World Championship
10/2/17
Taking a step back and thinking of the past weekend's rigorous measuring in process, it was quite an experience and we learned so much from it. As the skipper, I had never gone through a process like that before and do not have anything to compare it to, but those who have gone to multiple world championships agreed that it was well done. We even later learned that representatives from the 2020 World Championship were there to observe how it was done, and learn how to improve their own. The team was extremely happy that we passed with flying colors and we were all excited to start racing.
We kicked off Monday with two practice starts and one practice race. It is amazing what happens to the wind on a starting line with over 60 boats as it is 3-4 knots lighter than everywhere else on the race course. As you can probably imagine, this made it incredibly hard to start well. Our goal was to get off the line with speed so that we had more choices on racing tactics.
Tuesday was the first day of the World Championship and we were nervous going into the day. We wondered, just a little, do we deserve to be here? These racers are so darn fast! After having a group pep talk, we all felt our confidence return despite a few jitters.
We are now sitting in 30th place but there is a lot of racing in front of us. There are some heavy hitters who are sitting behind us and I expect results to move around significantly. We're expecting light winds all week which will make for some great racing.
More soon! To follow along, check out the Sea Bags Sailing Team Facebook page: http://seabags.me/2xXanhv