SHARE YOUR
#SEABAGSIGHTING
Signup for email,
and Save 10%!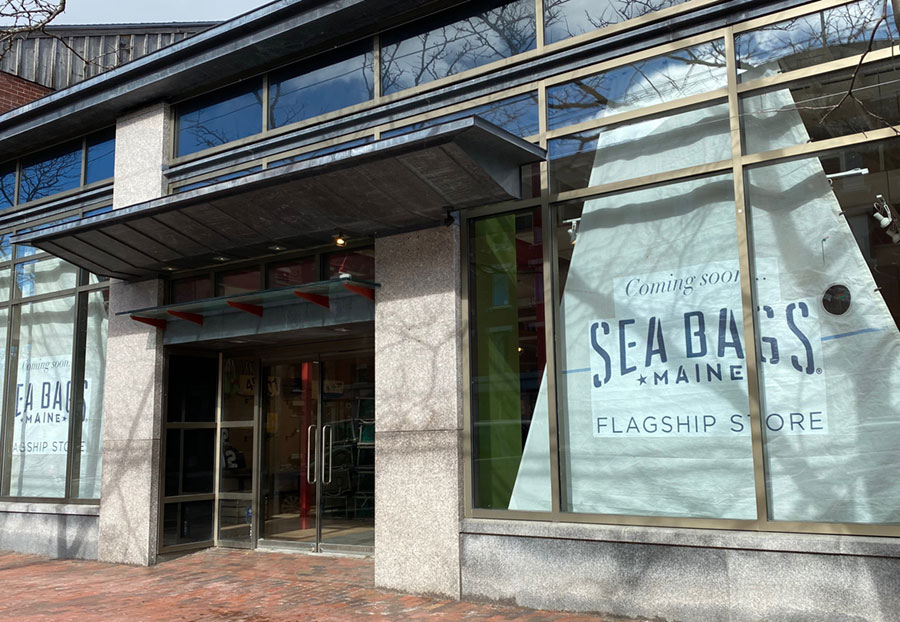 Setting Sail for a New Flagship Store Location
Plans are in motion to move the Sea Bags Flagship store down the street to a space more than three times the size of a typical store. With our retail footprint expanding throughout New England and beyond, we jumped at the opportunity to also expand in our hometown of Portland, Maine. While the move is big in terms of size, the distance is quite small as the new store is a stone's throw from our hub of operations on the wharf. As we grow, our connection to the working waterfront remains an important anchor to the Sea Bags brand origins.
04/29/21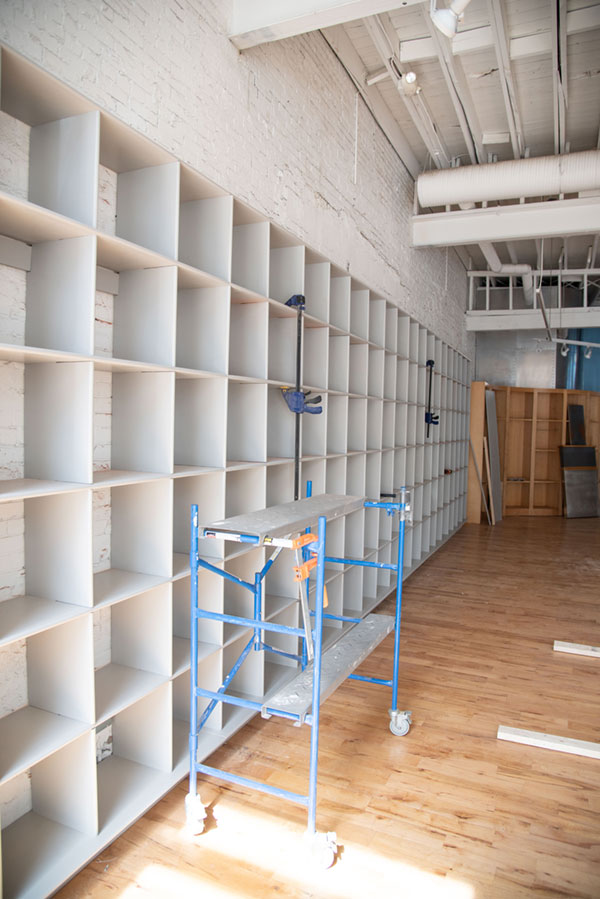 What can you expect for the new space?
The 2,500 square foot space is located at 123 Commercial St., the previous home of our first ever indoor tent sale. A stone's throw from the wharf-our connection to the sea, salt and lobster boats-the new flagship store is designed to exhibit the authentic, coastal pillars of our brand. You'll find a large sail in the storefront to tell the story of how each sail is recycled and optimized, so no scrap goes to waste. Product fixtures feature genuine marine salvage including unexpected surprises like a full-sized sailboat. A custom bag display gives customers design ideas and more space to dream up their own personalized, one-of-a-kind bag. And a larger store, means a larger assortment of product, including a 30' cube wall, filled to the brim with a variety of our current designs.
What is the crew working on this week?
We intentionally left the store's windows unobstructed during construction so community members and passers-by can peek in on our crew hard at work.
This week, our crew member and skilled carpenter, Patrick constructed and installed our iconic cube wall and reclaimed barnboard feature walls. Patrick has been a key contributor in the buildouts of our recent retail store openings, including 13 that we completed in 2020. Typically, it takes Patrick 2 weeks to build fixtures for a new store, and then the team will do the in-store install in 2 days. On occasion, we've even done it in one day (and rang our first sale before the store was even finished). With a footprint more than twice the size of other Sea Bags stores, we're taking a bit more time on this very special Flagship store buildout.
The rest of the crew has been freshening up the paint, helping build out our "Lobster Shack" and gathering recycled fixtures and props that will keep our authentic connection the wharf. With all of these things in motion, the space is taking shape and it's beginning to feel like Sea Bags.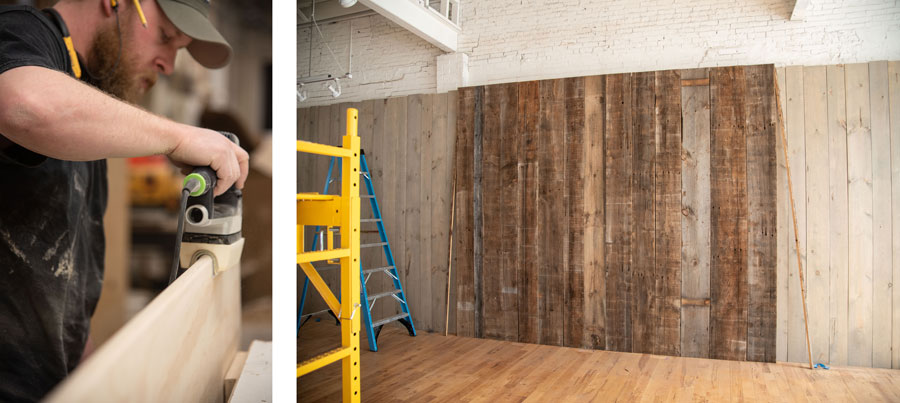 What are the plans for the old location?
Our store on Custom House Wharf isn't going anywhere. Stroll past Harbor Fish and down the wharf to our aptly named 'Factory Store.' "Given that this location is also our factory where we produce much of our product," says Don Oakes, CEO, "we are going to call this our 'Factory Store,' as it is in the truest sense of the word. We have many loyal customers who have been finding their way down the wharf for years, and we want to continue to be there for them." Customers will still be able to watch bags being sewn at our workshop and look out the windows to see the fishing boats unloading their catch. The Factory Store will sell discontinued designs and discounted samples, plus will continue to be the location to drive up and drop off your Sail Trades.
Want to stay in the loop?
Be sure to follow Sea Bags on social media or sign up for our emails to continue to track the progress and learn about our upcoming events. The new Flagship Store will open with a soft launch on Mother's Day weekend with a series of events, giveaways, and partnerships with local businesses. These will lead up to the Grand Opening on Memorial Day weekend which we hope the community and visitors from afar will join us to celebrate.
Sign up for email updates: