SHARE YOUR
#SEABAGSIGHTING
Signup for email,
and Save 10%!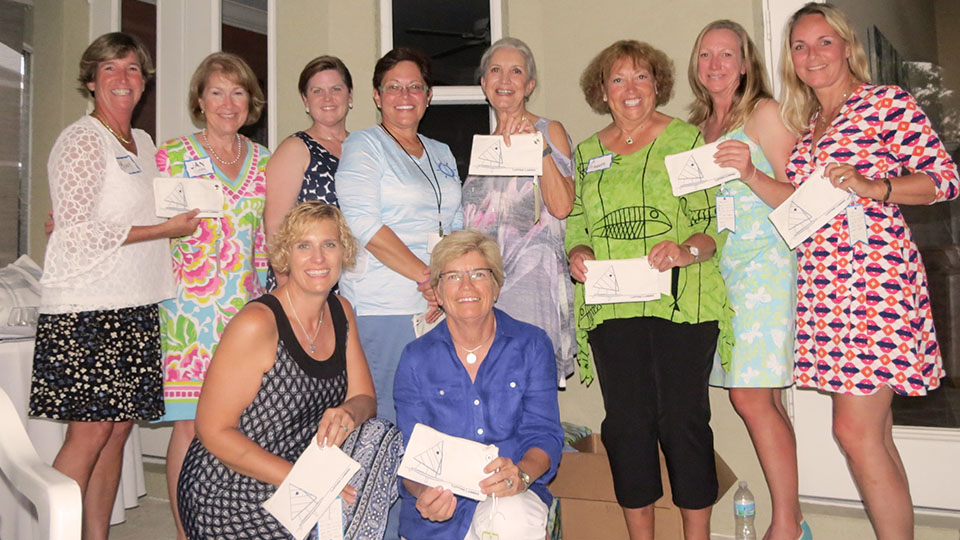 Sail Trade of the Month: Brenda Scanlon
We love when customers come to Custom House Wharf to perform a sail trade. We love it even more when they fly their sails across the country to do so!
5/26/16
After learning that she was a kidney match for a close friend, in February of 2015 Brenda Scanlon flew to Maine to begin preliminary tests. Upon arriving at Portland International Jetport, she came across the Sea Bags kiosk. The first item she laid her eyes on was the Navy Anchor Wristlet adorned with a colorful tell tale. On a sail boat, the tell tale is used to indicate the relative direction of the wind; on our Sea Bags, we consider them to be good luck. As an avid sailor, Brenda knew that the tell tale was a symbol of good luck and she purchased the wristlet in hopes that it would be just that. She and her husband made a plan to visit the Sea Bags Headquarters on Custom House Wharf, where she then learned of the Sea Bags Sail Trade Program. Brenda immediately contacted her fellow Luffing Lassies Members, as well as the Sarasota Youth Sailing Program - and the sail collection began...
The Luffing Lassies is a women's sailing organization based in Sarasota, FL and was established in 1972. Members compete against one another in Sunfish, 420, and Flying Scot sail boats. Some members even compete in US and World Events. When asked why she joined up with the Luffing Lassies, Brenda stated, "I wanted to learn how to sail, and the Luffing Lassies host an annual training week committed to teaching women each August. For the first year we focus on the basics, and we're able to compete each Thursday while we learn."
Many members of the Luffing Lassies also have children whom participate in the Sarasota Youth Sailing Program, so it really is a family affair. The youth program helps kids to develop a sense of independence and self esteem while having fun on the water; and at Sea Bags we believe that every day on the water is a good day!
...Almost an exact year later, with far less snow on the ground, Brenda returned to the Sea Bags Headquarters with seventeen sails to trade in. The best part...she flew the sails to Maine in her suitcase! As we unfurled each sail, encompassing the entire retail store floor, I could see the gears turning as Brenda began to imagine what she would like to receive in trade. At the end of the day, Brenda was able to provide the Sarasota Youth Sailing Program with tote bags to auction off at their annual fundraiser (two of which were made from the sails they provided), a Vintage 420 Sail Tote and a Vintage Sunfish Sail Tote to the top Luffing Lassies in each sailing class, and customized wristlets the Luffing Lassies' Board of Directors - made from team sails.
We are proud to announce that Brenda is the Sea Bags's Sail Trader of the Month. Thank you to Brenda for sharing our commitment to recycling sails, and also fostering the growth of sailing in her local community.
Contact sean@seabags.com to find out how to recycle your sailing community's sails.