SHARE YOUR
#SEABAGSIGHTING
Signup for email,
and Save 10%!
Running on Sustainability
Since Day One, we've held strong to three ideals: green in product and practice, made in Maine, and give back generously to our local community.
7/31/19
That's why, when we had the chance to be part of Maine's biggest road race, we couldn't say no. Founded by Olympic Marathon Gold Medalist, Joan Benoit Samuelson, TD's Beach to Beacon is revered by runners around the world for its authenticity, inclusiveness and oceanside course from Cape Elizabeth's Crescent Beach to the iconic Portland Head Light.
In keeping with a shared commitment to community and sustainability, our partnership with TD's Beach to Beacon allows Sea Bags to do what we do best. Utilizing our signature recycled sail cloth, we've created environmentally friendly mile markers to replace the balloon towers used in previous years as part of TD's Beach to Beacon's sustainability initiatives.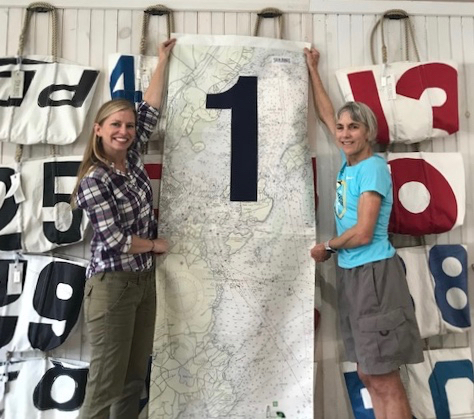 Standing at 6-feet tall, the six panels were specially designed and created at the Sea Bags' headquarters on Custom House Wharf. Each mile marker features an authentic nautical chart of the Casco Bay displaying the race route along Cape Elizabeth's coastline. Printed on recycled sail cloth with ecofriendly inks, the panel is finished with a large navy number that designates its position on the course.
Easy to spot along the race course, the mile markers will be supported by sturdy metal frames. After passing the last marker—number SIX—every racer will hear the roar of cheering supporters who will help carry them the last two-tenths of a mile to the finish line. It will be an inspiring achievement for all, including four individuals racing as part of the Sea Bags' team.
Our commitment to TD's Beach to Beacon continues after the race. When all of the athletes have passed the finish line, the mile markers will be signed by Joan Benoit Samuelson and the day's elite runners. Then the panels will be returned to Sea Bags' headquarters on Custom House Wharf to be sewn into six one-of-a-kind totes.
And then the fun begins.
On Saturday evening, after the race is over, the first one-of-a-kind tote will be auctioned off to the highest bidder among the race participants. The remaining five will be auctioned from Saturday, August 10 through Wednesday, August 15. One recycled sail cloth tote will be auctioned each day and the auctions will run from 8:00 am to 8:00 pm. We're excited to share that all the money raised will be donated to this year's beneficiary of TD's Beach to Beacon, the Telling Room. Located in Portland, the Telling Room encourages and supports youth to be their most creative selves in the world of writing and storytelling.
Mile Marker #1 Tote—Saturday, August 3
Mile Marker #2 Tote—Saturday, August 10
Mile Marker #3 Tote—Sunday, August 11
Mile Marker #4 Tote—Monday, August 12
Mile Marker #5 Tote—Tuesday, August 13
Mile Marker #6 Tote—Wednesday, August 14
Are you running in this year's TD's Beach to Beacon? Be sure to share your pictures of the mile markers with us on social media using #seabagsighting and #TDB2B10K!