SHARE YOUR
#SEABAGSIGHTING
Signup for email,
and Save 10%!

Remembering the F/V Hayley Ann
In January of 2020, Captain Joe Nickerson and his crew perished at sea while fishing aboard the F/V Hayley Ann. In honor of her father, Captain Joe's daughter Hayley designed a tote in partnership with the Maine Coast Fisherman's Association and Sea Bags.
12/08/20
The 45-foot vessel, out of Kennebunkport, Maine, capsized and sank roughly 50 miles off the coast last January. A well-known and respected member of the Portland fishing community, Captain Joe Nickerson also served as the chairman of the Maine Coast Fishermen's Association (MCFA). Hayley decided that the best way to honor her father's memory was to support the industry that he gave his life to. 20% of the sales of this recycled-sail tote will support MCFA in advocating for Maine's fishing communities and the next generation of fishermen in Maine.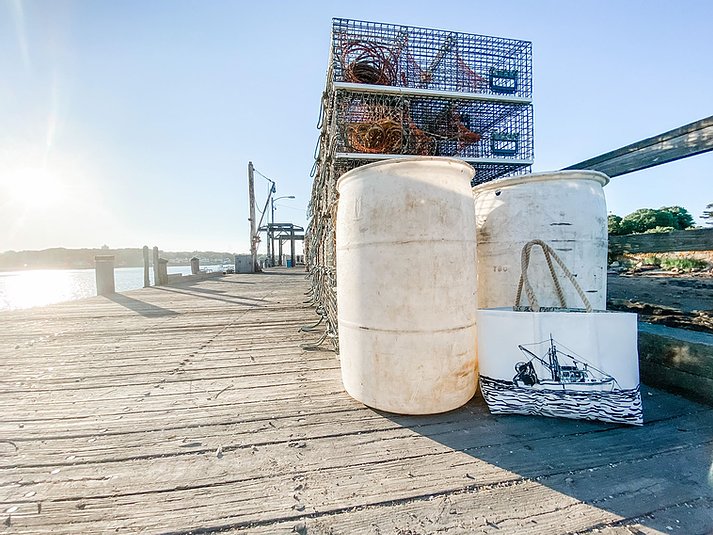 This collaboration is important to us at Sea Bags because the fishermen in Portland are our neighbors and, on this wharf, our family. We see their hard work daily and appreciate what they do to bring fresh fish to our families. We are proud to support Joe's legacy and contribute to the future fishermen in Maine. - Beth Shissler, President & Chief Sustainability Officer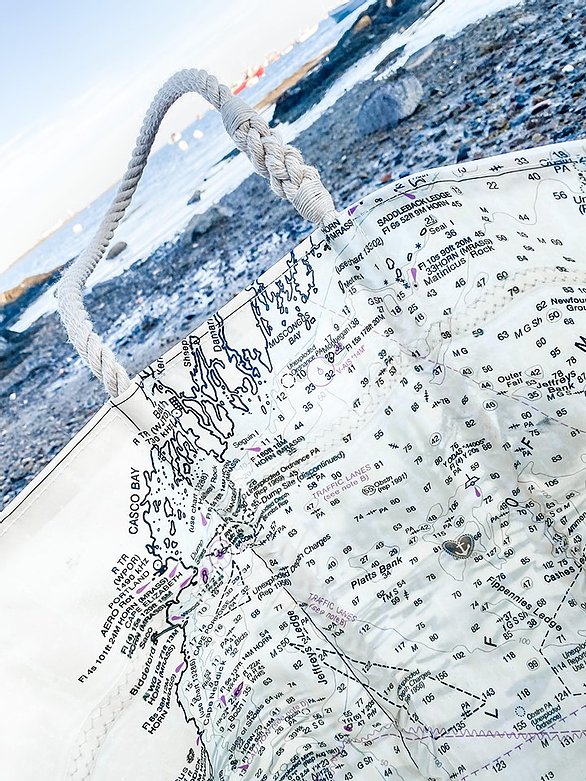 We asked Hayley to share her experience designing this tote and describe the effect it has had in the fishing community.
Sea Bags: Why did Sea Bags make sense for this partnership?
Hayley: In recent years my dad would gift my mom and me a Sea Bag for various holidays or events. My favorite was the Pirate Bag he gave me at my baby shower. I had told my mom how I felt compelled to do something to give back to the industry that meant so much to my dad. When we went to the Maine Fisherman's Forum in March, we spent time wandering through Rockland and Camden. During our time we noticed the many Sea Bags designs and we both noted how dad would have loved them. That's when the idea started to form and I am in awe of how well this partnership came together.
Sea Bags: The tote design is incredibly meaningful to you and your family, how did the design process evolve with the Sea Bags team?
Hayley: I initially reached out to the design team through the website and shortly received an email back from Beth. My mom and I had agreed that the image needed to be of the boat, but we also wanted to include the location and were unsure of how to accomplish that. We told Beth our thoughts for the design and she proposed the idea to incorporate the chart on the inside of that bag. It's perfect. It is there but not the focus, a hidden reminder of my father wherever we go.
Sea Bags: What has the response to the tote design been in the fishing community?
Hayley: When I first walked into the MCFA office someone almost instantly took note of the rope splicing on the bags, to check the quality. I laugh thinking about it because it's something my dad would have done. That was also the first time I had been to the office and the first-time I realized I was making a difference and contributing to something my dad would have appreciated. I have not made nearly the contribution to the fishing community he has but I am compelled to do what I can, for him.
My mom and I were so surprised with the number of bags sold. We knew we loved the bag but would other people? Did people even still remember what happened or had too much happened this year? It is so wonderful to see these bags around, it's a reminder that other people are remembering my father too. I helped pack almost all of the bags we sold this summer and I was stunned to see people from all over the country had purchased a bag. It made me so incredibly grateful that people outside of New England care about this story.
I reached out to Ben Martens, Executive Director Maine Coast Fishermen's Association, recently to hear about how this partnership has affected the fishermen he works with every day. In Ben's own words: "The fishing community has embraced the idea of honoring Joe's legacy through the Sea Bag partnership. I had a lot of fishermen send me texts with pictures of the bag once they were delivered. Each message was amazingly heartfelt and genuine. Fishermen didn't just buy it for their wives either, we had folks buying it to keep it on the boat for grub and groceries to keep the memory of Joe with them whenever they left the shore."
Sea Bags: At Sea Bags, we like to say that carrying a Sea Bag is like carrying a story on your shoulder. How does your father's story, his legacy, live through this Sea Bag?
Hayley: I have realized that I am afraid of people forgetting what happened. People hear tragic news stories far more often than we should and you always think to yourself "it will never happen to me." That's exactly how I have felt until my mom got the call from the Coast Guard that day in January. These bags are a reminder to us that people have not forgotten our story, and that they value the risk fishermen and women take every time they head out to sea. It is hard to put in words how grateful we truly are for each bag that has sold.