SHARE YOUR
#SEABAGSIGHTING
Signup for email,
and Save 10%!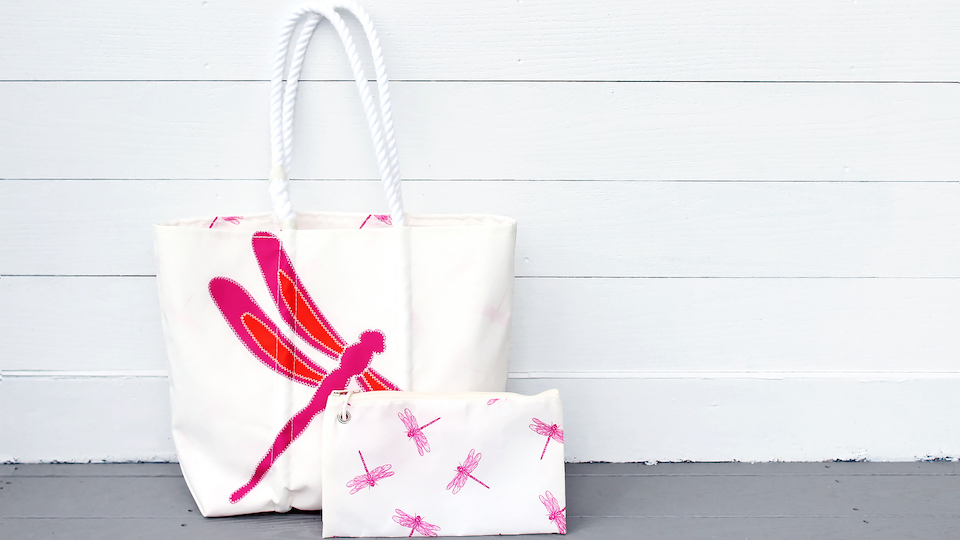 Pink Dragonflies for a Cure
Almost everyone is impacted by cancer in some way. This is why, for the twelfth year in a row, we are offering a limited-edition Cure Collection that helps fund research toward a cure.
10/9/18
"Giving back to our community is core to our company's mission and we look forward to this campaign every year," says Beth Shissler, President and COO of Sea Bags. "Cancer affects everyone, and we feel good donating generously by doing what we do best."
The symbolism of the dragonfly made it an appropriate choice for this year's design. Representing change, adaptability, and self-realization, the dragonfly has long been seen as a symbol of hope and transformation. The stories of weathered storms in each recycled sail represent the challenges one may face through their journey of cancer.
This year, we have again partnered with Maine Cancer Foundation to help fund cancer prevention, early detection, and treatment programs in the state of Maine. Maine Cancer Foundation's Director of Community Engagement, Kristen Smith, says, "Few businesses are as evocative of Maine as Sea Bags. We are extremely grateful for their ongoing support of Maine Cancer Foundation as we continue to reduce the impact that cancer has on our state."
Available through the end of the year, 20% of sales of the Nautical for a Cure Collection will be donated to the Maine Cancer Foundation. The Pink Dragonfly Cure Tote and Large Wristlet are available for purchase for a limited time online and at all eighteen Sea Bags retail stores.