SHARE YOUR
#SEABAGSIGHTING
Signup for email,
and Save 10%!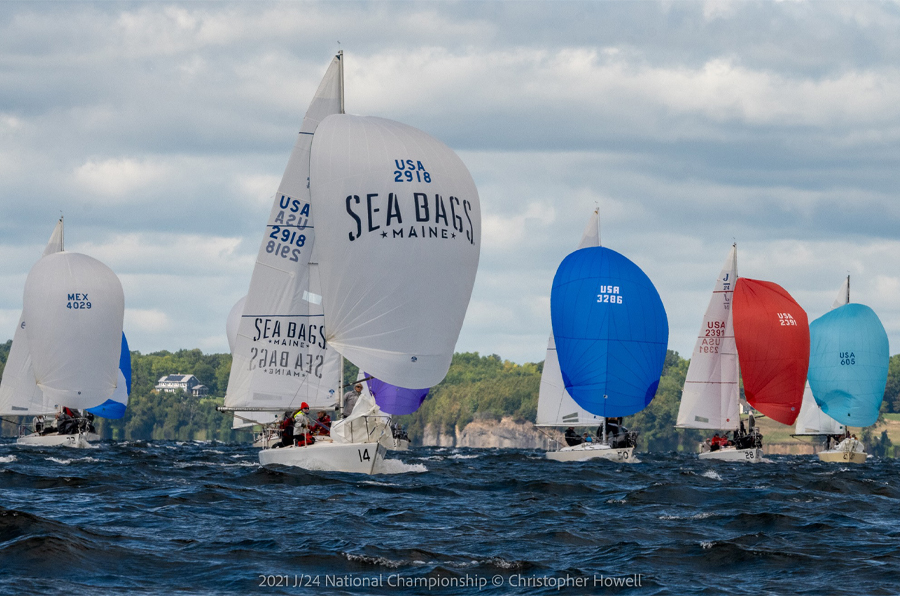 "OUR BEST REGATTA EVER"
Sea Bags Women's Sailing Team at the J/24 US Nationals
09/24/21
Sea Bags Women's Sailing Team was thrilled to compete in the J/24 US National Championships in Mallet's Bay in Burlington, Vermont. The team finished 14th overall with a total of 112 points and is proud to have four Top-Ten finishes out of 10 races. The skipper, Erica Beck Spencer, won the Top Female Skipper award, which she also won in 2017 and 2019.
Erica says of their accomplishments, "I couldn't possibly be more proud of how we sailed. The team was working the best it has ever worked together."
The Sailing Team prepared extensively for the races, both physically and mentally. The biggest challenge the team faced after a year away from racing was that they needed to "shake off the cobwebs." Erica explained, "Racing in the Down East Regatta with five of the six Nationals team members was great practice. Being on the starting line with 16 talented boats was good practice. But starting with 41 boats on the starting line at Nationals was a bit overwhelming. There is no way to simulate this, except to do it."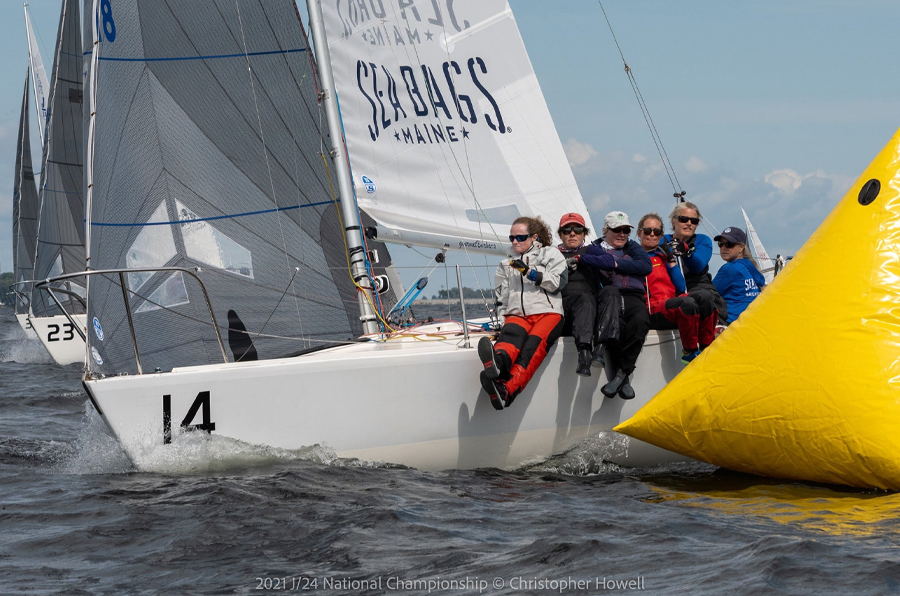 The Nationals team consisted of Erica Beck Spencer - Skipper, Emily Carville - Trimmer, Hillary Noble Keimig - Tactician, Joy Martin - Called breeze and compass, Laura Graham - Mast controls, Jess Harris - Bow.
Skipper Erica shared a recap of their three days of racing:
9/10/21 - Day 1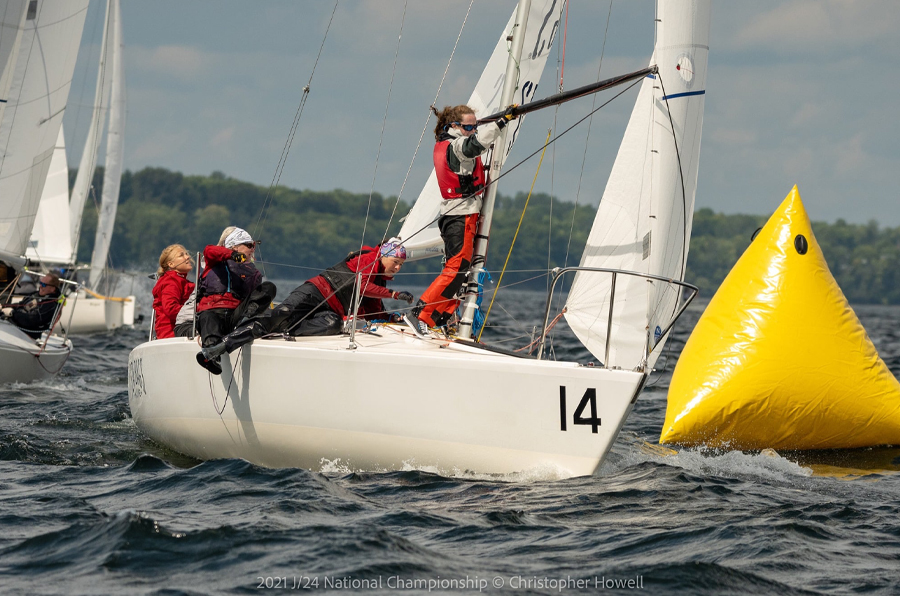 To have the team back together, against 40 amazingly talented competitors, in the beautiful Mallet's Bay just north of Burlington, was just awesome. We ended the day in 12th place. For the first three races of the day we had top twenty finishes (a 16th, 19th, and 18th) which we were pretty happy with because the competition was quite stacked. But then in the final (and longest) race of the day, we got a third—our best finish at a big regatta ever! To end on that note, at the J/24 US National Championship, was exhilarating.
9/11/21 - Day 2
Another incredible day—four more long and windy races. The first two races were both top-ten finishes, with a 5th and an 8th. We held strong in 13th place and had two windy races on Sunday to look forward to.
9/12/21 - Day 3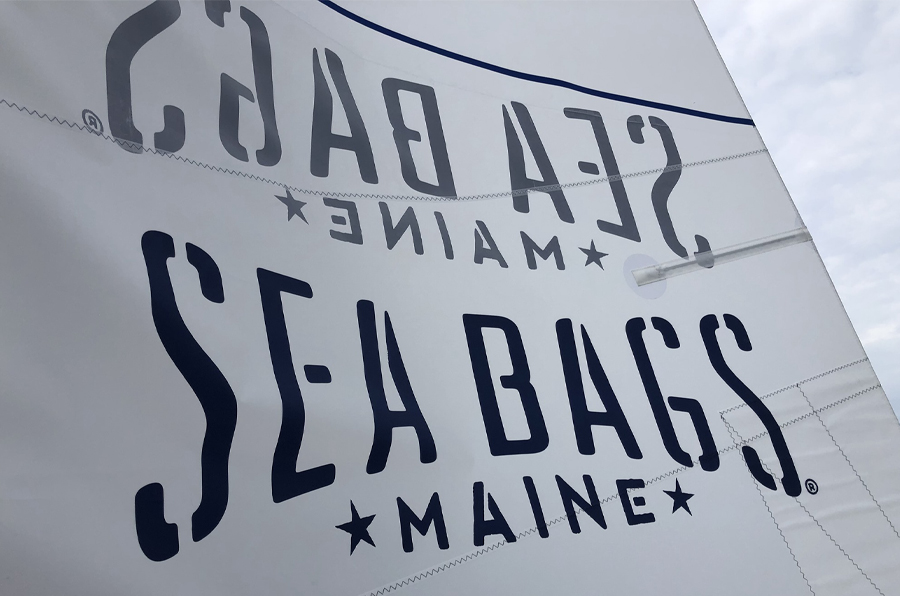 The conditions on Lake Champlain for this year's J24 Nationals were extraordinary. Three days of excellent breeze and warm weather. The team fought for every single point. Eight of the 13 boats who did better than us had professional sailors on their crew. Several of the pros, who have taught us so much over the years, went out of their way to tell us how well we did. We were regularly at the top of the fleet—sometimes in front of the boats who finished in the top five overall.
In addition to our race results, this was one of the team's best regattas ever because of the way we worked together. We've gotten to a place of deep trust and understanding and know all that needs to be done to be better competitors. Each team member has improved their individual skills which results in a more capable and competitive team. For example, our tactician Hillary Noble Keimig has been racing in Newport with incredible sailors that helped her grow her confidence and ability. The end result is that Hillary has also gotten better at working with our team and can more successfully direct our course in a race. At the end of a race series, taking the time to reflect on these team advancements is so gratifying.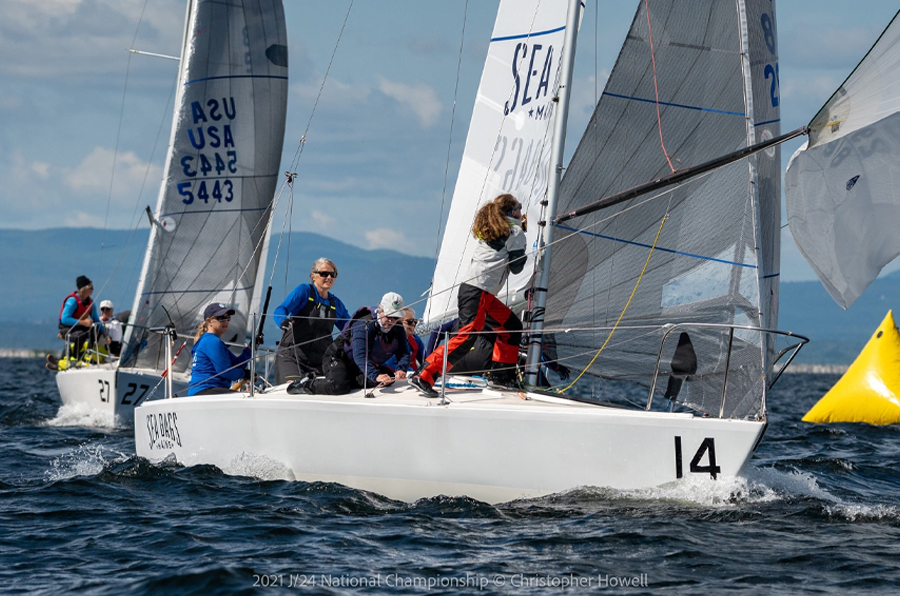 Final Thoughts
The Sea Bags Women's Sailing Team shared their gratitude at the end of the event, saying, "We are so darn grateful for all the volunteers who made this event as amazing as it was. Thank you, Mallet's Bay Boat Club. Thank you to our team for their efforts to get there and to give all of themselves for one of our best regattas ever, and to Sea Bags for making this all possible for us to compete at the highest levels." And to top it all off, the team brought back a boat full of reclaimed sails!
The skipper shared one final anecdote from her weekend, which highlights how much sailing means to her and to all who participate:
"I used to crew on a Lightning in Burlington with the man, Don Brush, who was the PRO—the man running the regatta on the water. I learned so much from him when I raced with him, but I ultimately wanted to drive my own boat. He came up to me after racing and said how proud he was to watch me race. We both got a little teary eyed and gave each other a big hug.
We form intense relationships with the people we race with—it is absolutely a friendship, but it is more than that. It is kind of like they become our family. Family we choose to spend time with and get to do the things we love most in the world together. The thing that defines who we are. Nothing compares."
Congratulations to the entire Sea Bags Women's Sailing Team and to all the teams who raced at this year's 2021 J/24 US Nationals Championships. The team will compete next and finish their season at J/24 East Coast Championships in Annapolis, Maryland in October. Be sure to follow their journey on Facebook and Instagram.
Huge thank you to Christopher Howell for taking these amazing photos.
Sign up for email updates: