SHARE YOUR
#SEABAGSIGHTING
Signup for email,
and Save 10%!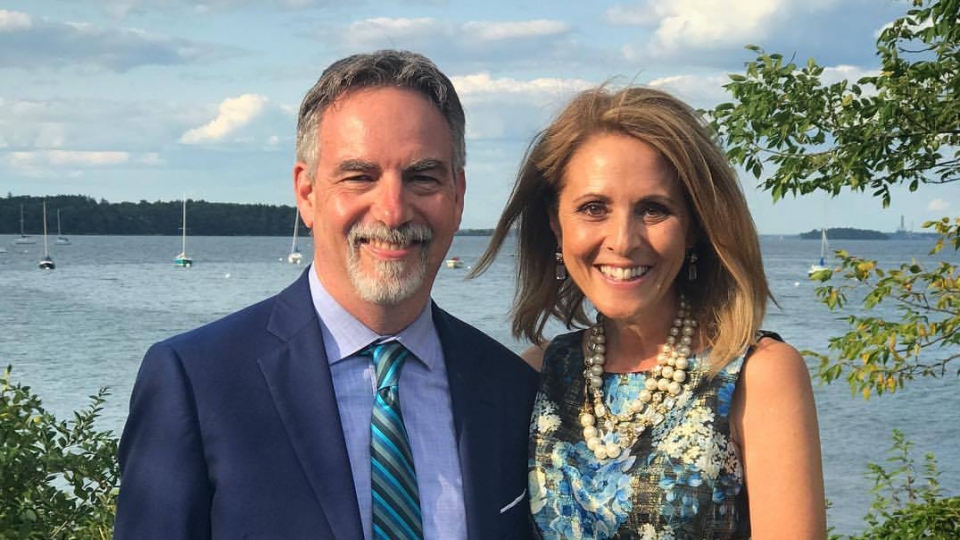 Laura Rinck Voices How Mainers Should Work Together To Defeat Cancer
To spread the word about Giving Tuesday in a meaningful way, we've reached out to members of the Maine cancer community and those who are a big part of the Maine Cancer Foundation (MCF) to learn more about their personal journeys and what our Nautical For A Cure Campaign means to them.
11/29/17
Laura Rinck, a stage 2 Hodgkin's Lymphoma survivor, is part business owner and President of Rinck Advertising and a Board of Director at Maine Cancer Foundation. She keeps herself very busy as her company continues to grow and expand into another location and on top of that she is heavily active in the cancer community. She assisted with standing up the Maine's Impact Cancer Network initiative and continues to support other initiatives for MCF's Challenge Cancer 2020. Below Laura shares her story of her challenges with cancer and the supportive network of the Maine cancer community.
I feel so lucky to live in the great state of Maine. It's natural beauty, rugged coast, in-land mountains and down-to-earth values have made it an ideal place to live and raise my family. That being said, our beautiful state has a serious health issue that we all need to recognize. We are the number one state in New England for cancer incidence. This year, more than 8,300 Mainers will receive a cancer diagnosis.
I am one of those people. My first cancer diagnosis came in 1989. At that time, I was a new mom. My first-born daughter, Sarah, was just three weeks old when I got very sick and landed back in the hospital with extremely high fevers. At first, my doctors believed the fevers were related to my recent delivery. A uterine infection or a breast infection was their best guess. But as the days went on, I got worse. Finally, a chest x-ray revealed a large tumor near my heart and I was diagnosed with Stage 2 Hodgkin's Lymphoma.
When I look back on that time, I am amazed at the young woman who had to overcome the challenges of becoming a new mom and providing the best care and love for my baby while being treated for Lymphoma, which included multiple surgeries and daily cancer treatments for three months. When I think about how I did this, I realized that my focus was simply living and surviving each and every day until the cancer was in my rearview mirror.
Twenty-eight years later, I am now a "long-term" survivor. In that time, I have had several other less serious cancer diagnoses. Today, my greatest challenge is navigating my survivorship from a health perspective. The good news is that I have survived all these years. The reality, though, is that because I received 4800 rads of radiation (the equivalent of 48,000 x-rays), I must be vigilant about secondary cancers for the rest of my life.
For me, part of that vigilance is to be proactive in Maine's cancer community. My husband, Peter Rinck and I have served on the board of directors of Maine Cancer Foundation (MCF) for over 12 years. To us, the state of cancer in Maine is grave and the battle is uphill. Two years ago, Maine Cancer Foundation launched Challenge Cancer 2020 with the goal to reduce cancer in Maine 20% by 2020. This is a bold goal but our state deserves that kind of visionary leadership. Over the past two years, MCF has invested $4.8 million in game-changing programs across the state, ensuring better prevention, early detection and access to cancer treatment for all Mainers. We also launched Maine's Impact Cancer Network, bringing together businesses, nonprofits, government, and Mainers who have lived experience with cancer to find new ways to collaborate – because only by working with each other can we defeat cancer.
MCF's work across the state is significant and the majority of this work is funded through community support including events and through corporate partnerships like the Nautical For A Cure collection from Maine's own Sea Bags. Not only is this promotion significant in that 20% of sales goes to supporting MCF's prevention and screening efforts, but each beautiful, bright, pink-striped bag becomes a walking billboard for cancer awareness.
As a business owner myself, I so appreciate the leadership efforts of Sea Bags to build critical awareness of Maine's cancer rate as well as to support a cancer organization in our state where every dollar is kept right here where we need it most. The truth is that prevention is the only cure. I am thrilled that Sea Bags has designed these beautiful bags to remind us of the importance of prevention. The funds raised through the sale of these unique bags will ensure that we can provide opportunities for screening to Mainers who need it most.