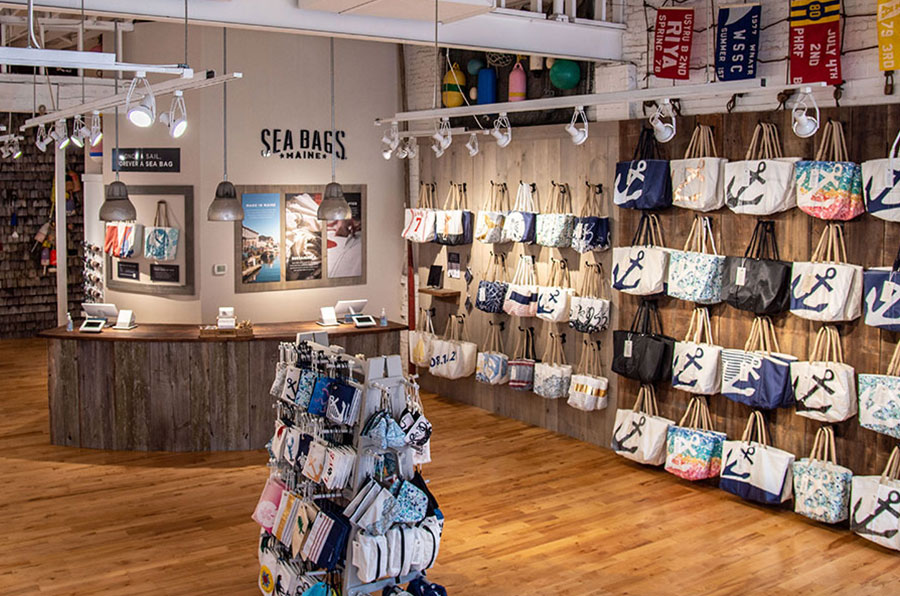 Grand Opening of our Flagship Store in Portland
Our Portland Flagship store is officially open. From our initial vision, to "new" recycled design features, and ties to Custom House Wharf, our crew was able to bring you a space that elevates the Sea Bags brand.
06/15/21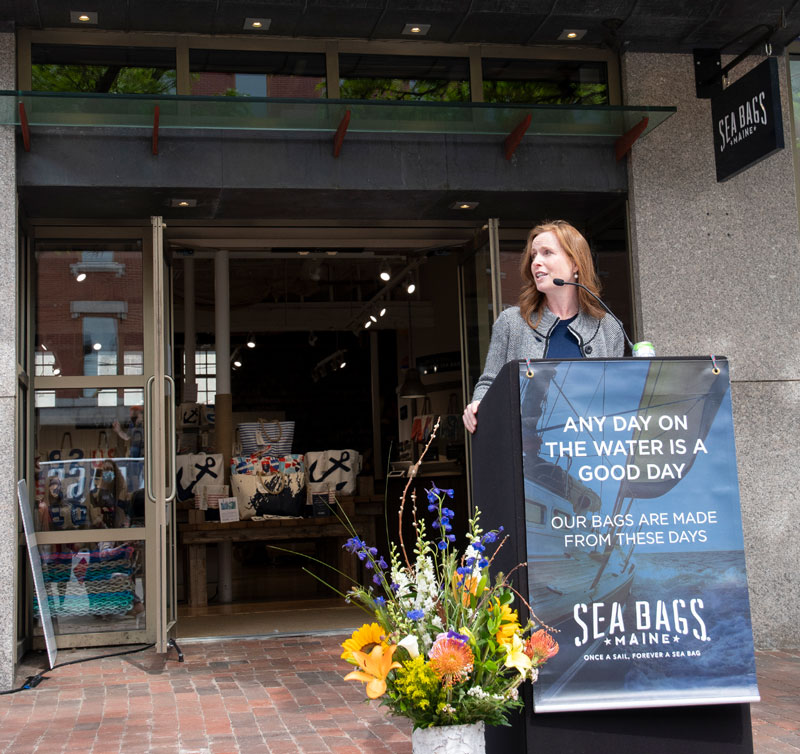 Commercial St. in Portland is always busy, but never more than during summertime. With throngs of tourists traveling to Maine this summer, some traveling for the first time in more than a year, Portland feels a little busier than usual. Or maybe Sea Bags feels busier than usual with two locations in Portland to welcome our customers to. Our new Portland Flagship store officially opened Memorial Day weekend and at the same time, we converted our existing store on the wharf to a Factory Store.
The feedback from customers and the community so far has been amazing. At the Grand Opening, Portland's Mayor Kate Snyder said, "It is remarkable to think that you have 39 stores, 9 stores in Maine and nearly 200 employees. With your growth, you're helping the Maine economy, you're helping the local Portland economy. We're really proud of you. So thank you, so psyched you're here."
Why two locations?
You may be wondering, why we moved the Flagship store to Commercial Street? Don Oakes, CEO of Sea Bags tells the story of how the opportunity unfolded: "We weren't planning to open a second store in Portland, especially less than a block from our original store, but then 2020 happened. We were trying to figure out how we could have our annual Black Friday sale and came up with the idea of having an "indoor tent sale" in a much larger space. Fortunately for us, the space on Commercial Street became available. It was more successful than we could have hoped and that convinced us to consider staying long term and to transform it into a new Flagship Store. In turn, we then decided we would convert our original store into a Factory Store where we will sell "retired" designs from previous seasons along with samples at a discount of 20%. We think this gives customers the best of both worlds."
The Factory Store is just a short walk across Commercial Street and down Custom House Wharf. As the location where Sea Bags got its start and where a significant amount of our manufacturing still takes place, having a space where our customers can watch our bags being hand crafted was important to us. The Factory Store (and all of our retail stores) is also where you can stop by at any time and trade your sails for a Sea Bags product as part of our Sail Trade Program.

What are the plans for the old location?
Our store on Custom House Wharf isn't going anywhere. Stroll past Harbor Fish and down the wharf to our aptly named 'Factory Store.' "Given that this location is also our factory where we produce much of our product," says Don Oakes, CEO, "we are going to call this our 'Factory Store,' as it is in the truest sense of the word. We have many loyal customers who have been finding their way down the wharf for years, and we want to continue to be there for them." Customers will still be able to watch bags being sewn at our workshop and look out the windows to see the fishing boats unloading their catch. The Factory Store will sell discontinued designs and discounted samples, plus will continue to be the location to drive up and drop off your Sail Trades.
Designing the Flagship Store
Don Oakes had a vision for the Flagship: to elevate the Sea Bags brand by taking what we had discovered in opening the past 38 stores and incorporating these learnings into this new store. He shared, "The question mark and challenge for this store was whether we could execute it in a space that is three times the size of our average store and more than twice the size of our previously largest store." In addition, he revealed that the overall goal of every one of the Sea Bags stores is to authentically showcase the beautiful products.
Paul Gori, the Vice President of Retail Stores, describes how designing and building a new store begins; "The multi-faceted process first begins with a walk-through to get a feel for the new space. We look at the existing features or unique qualities of the new location that can be reinterpreted to reinforce our brand purpose. We prepare a floor plan and determine what brand elements will be added." He explained that one of those authentic elements is the signature "Cube Wall" that is in every Sea Bags store. "The cube wall with the original tin "Brown Ship Chandlery" sign above it and dressed with nautical salvage is my favorite feature in the new store."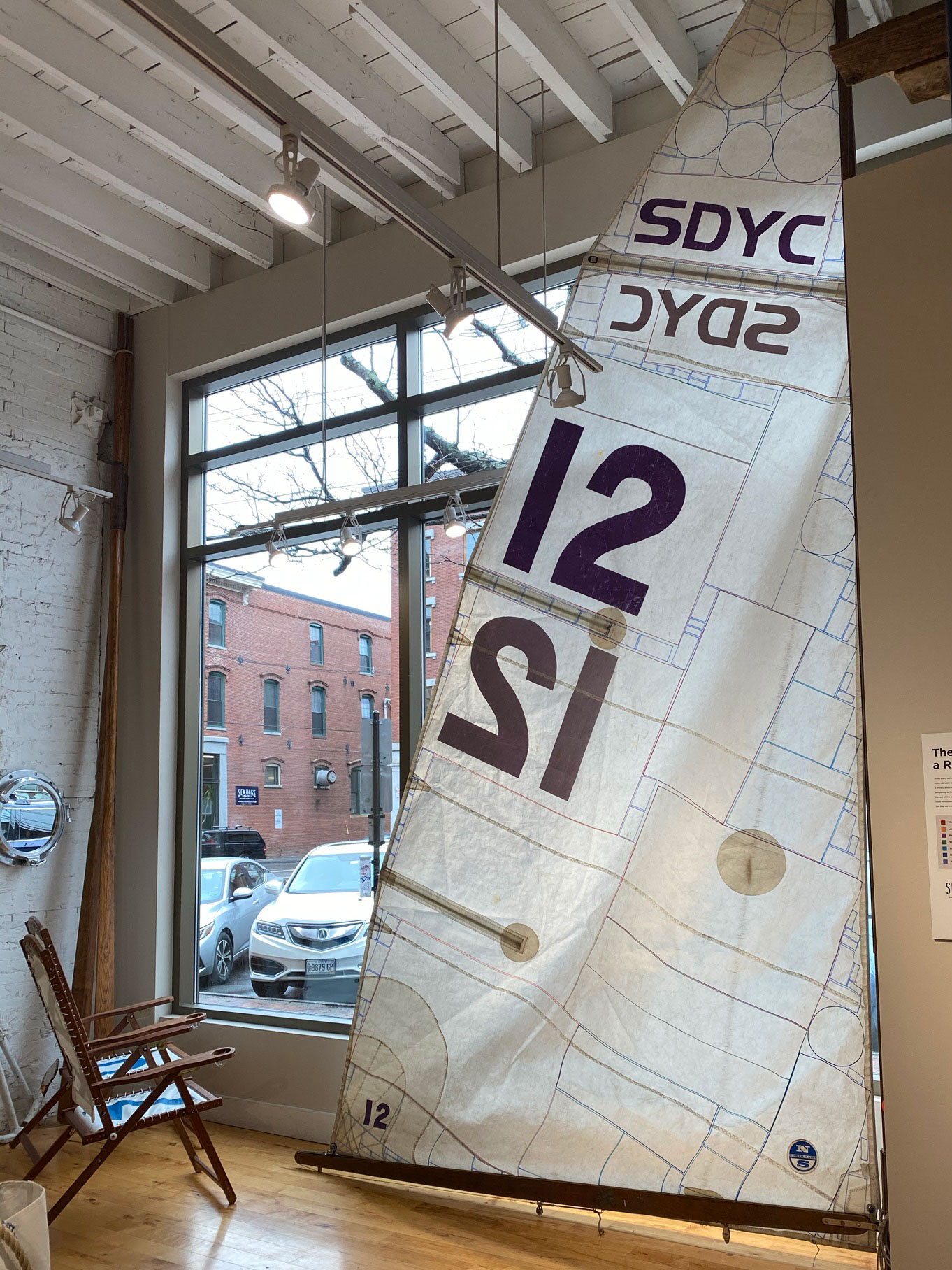 Unique Design Features That Set This Store Apart
This store is full of new features that complement our newest Sea Bags products and classic customer favorite designs. In one front window we have shared our sail cutting process with the "Anatomy of a Recycled Sail", a display that illustrates exactly how we reuse every possible inch of a sail. A real mahogany pea boat, originally used to ferry crew and gear from dock to vessel, has been repurposed to display our Chebeague Travel Collection. We have decorated the walls and ledges with reclaimed marine items, because keeping these items out of landfills is at the heart of our sustainability pledge. Customers love to hunt for what they might see amidst the salvaged marine props, such as glass fishing floats, colorful buoys, fishing nets, and regatta flags.
Continuing our pledge of sustainability, we reclaimed shingles from a 120-year-old barn in Bangor, Maine to recreate the facade of a "lobster shack" inside our store. The lobster shack is the backdrop for our Vintage Insignia Collection. We also reclaimed barn board from a 150-year-old barn in Norridgewock to finish the walls behind various totes and handbags. And, the new Flagship is the only Sea Bags store to have an entire wall dedicated to our customer-favorite signature design, the Anchor Collection.
Don's favorite thing about the new store? "At the end of the day, my favorite thing is the fact that while all stores share many common similarities, they are all unique, just like our bags."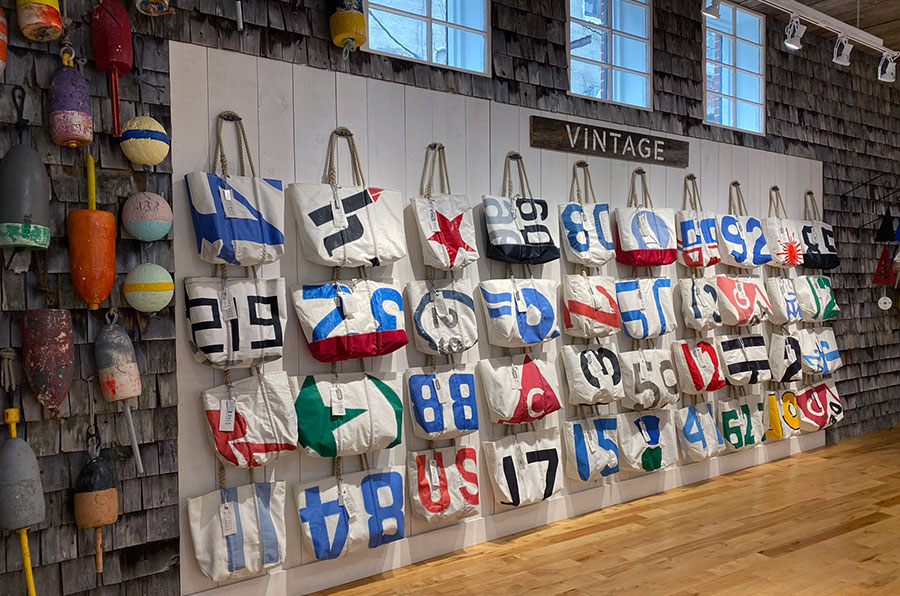 Come Visit Us!
Until you can come visit our new Flagship store, we welcome you to experience a bit of the construction process for yourselves. Take a peek at our behind-the-scene photos of the build in process, as well as a unique time-lapse video to get a condensed version of our month-long renovations. And of course, stop in to 123 Commercial Street in downtown Portland as soon as you get a chance to see the completed store in person. Visit this page for even more information.
For more ideas on how to make the most of a visit to Portland, peruse our blog "6 things to do in Portland"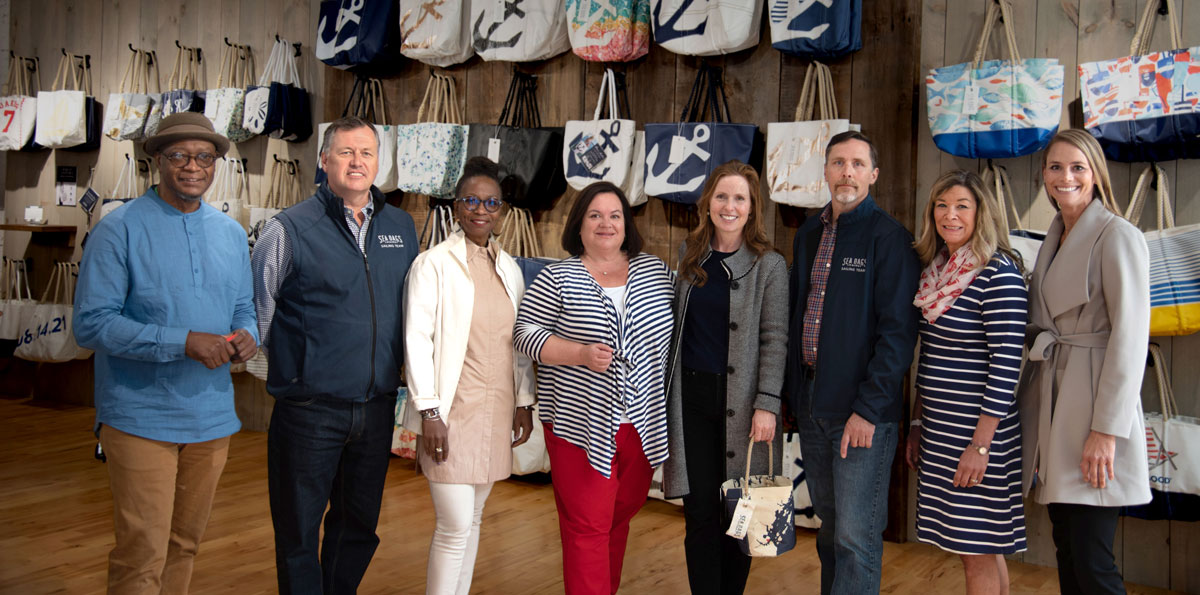 Sea Bags Leadership and Special Guests (from left to right) : Daniel Minter, Don Oakes, Marcia Minter, Beth Shissler, Kate Snyder, Bill Mcgonagle, Kate Snyder, Fran Phillip, Quincy Hentzel.
SHARE YOUR
#SEABAGSIGHTING
Signup for email,
and Save 10%!