SHARE YOUR
#SEABAGSIGHTING
Signup for email,
and Save 10%!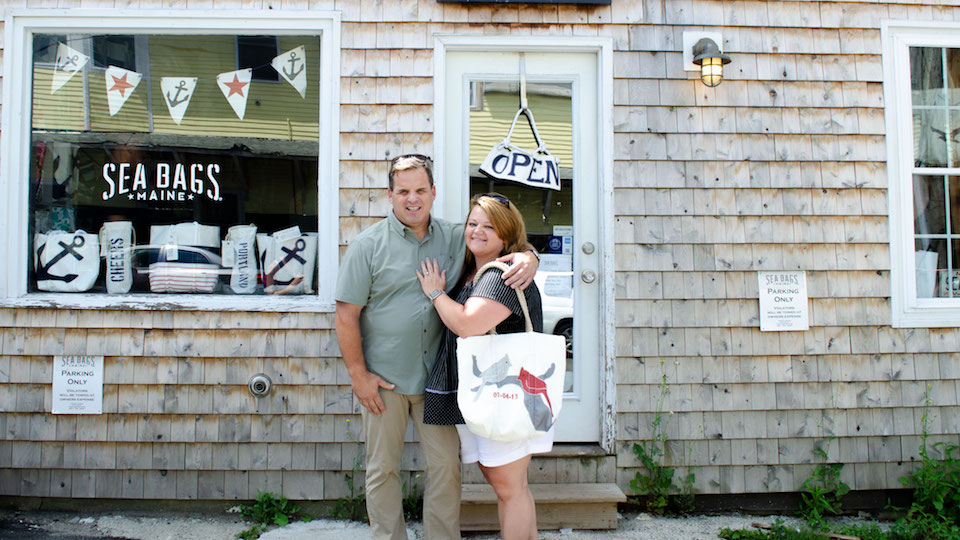 A Second Chance at Love
Who doesn't like a good love story? When we had the chance to make a Custom Design Tote for a customer to use to propose to his girlfriend, our crew jumped at the opportunity.
8/20/18
Working with our Custom Design team, Doug created a design featuring the date of their first date and two cardinals sitting on a branch. Oftentimes considered a spiritual messenger, the cardinal, and its symbolism hold great meaning for Tasha. Doug knew this bag would be the perfect way to ask Tasha to start the next chapter of their journey together.
For the last three years, Doug and Tasha have visited Sea Bags on their annual vacation to Maine. Doug reports that each year Tasha would add a Sea Bag to her collection and she'd wonder about the stories and adventures of the sail before it was re-purposed into a bag.
This year he planned for the two of them to visit our Portland store and pick up the custom engagement bag he had designed for Tasha. When they arrived in our store, our crew was eager to welcome the happy couple and see Tasha's reaction to her new Sea Bag. She told our crew, "It's a second marriage for both of us. Because it's made from recycled sails, I feel like this bag is a perfect representation of our second chance together."
We look forward to welcoming Doug & Tasha back to Maine for their wedding and future anniversaries and wish them all the best.