SHARE YOUR
#SEABAGSIGHTING
Signup for email,
and Save 10%!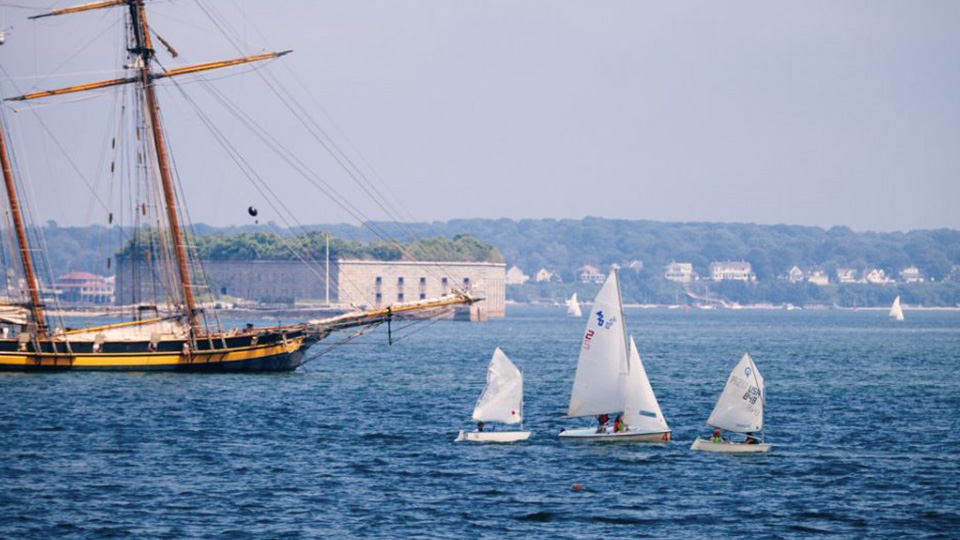 420: The International Dinghy
Responsible for youths across the globe learning to sail, the 420 International Class Sail Boat is the source behind this week's featured sail insignia.
5/31/16
Aptly named, the International 420 Class Dinghy describes the overall length of the boat in centimeters; the boat is exactly 4.2 meters long. The 420 is designed for a two person crew and features a spinnaker sail and optional trapeze, making teamwork an absolute necessity to sail it well. 420s were designed as a stepping-stone for club and youth sailing to the larger higher-performance 470, both of which were conceived by French engineer Christian Maury.
The 420 is the perfect sail boat for youth sailors to learn on. The teamwork required to sail the boat helps build essential skills for the world of sailing, as well as life on land. The boat is standard for youth development in forty-three countries around the world, including the US. Our local youth sailing program, SailMaine, has incorporated approximately thirty collegiate 420 sail boats into their diverse racing fleet. The fleet is the largest in the Northeast and is used for high school team practices as well as SailMaine's junior summer program. Last year SailMaine recycled nearly one-hundred sails from their 420 fleet with Sea Bags. The sail donation from their personal fleet, combined with individual sail traders who opted to donate their sails to the Sea Bags Scholarship Fund, provided nearly twenty junior sailors with the opportunity to discover sailing in 2015!
The availability of second hand boats around the world, active clubs, and tuition assistance has placed the 420 at the forefront of breaking down entry barriers associated with sailing. The same popularity has allowed Sea Bags to craft beautiful recycled sail totes made with the unmistakable 420 logo - each one distinctive from the last. Call us, or send an email to customerservice@seabags.com to request your one-of-a-kind Vintage 420 Tote today.