SHARE YOUR
#SEABAGSIGHTING
Signup for email,
and Save 10%!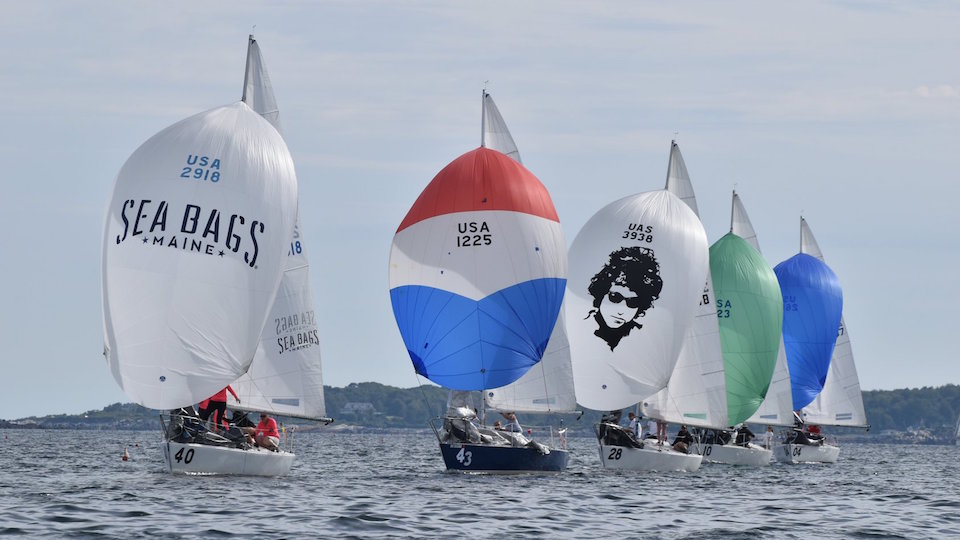 2018 J/24 U.S. National Championship
Sea Bags was proud to be the title sponsor of the 2018 J/24 US National Championship held at Portland Yacht Club.
9/18/18
From September 7 to 9, forty-eight boats converged in Falmouth, Maine for three days of racing. We were especially proud to cheer on our Sea Bags' Sailing Team, an all-women team made up of sailors from Maine, Newport, Annapolis, and upstate New York.
Reflecting on the regatta, team Skipper Erica Beck Spencer cites a lack of breeze as one of the major challenges of the weekend, "We were only able to pull off five races and some of those were exceptionally light air races, verging on too-light-to-race. Our team did an extraordinary job staying focused in some very tough conditions and never ever gave up trying to catch one more boat at any point on the course."
In spite of difficulty with the breeze, the team finished strong after the first two races on day one, but by the end of the weekend had moved down in the standings to place seventeenth overall.
Even still, Erica is proud of the team's accomplishments, "After racing on Friday we were in 9th place. Being in the top ten at a National competition, even for a day, was exhilarating. Despite the disappointment of dropping in the rankings, it still represents our top finish at a major international competition."
In addition to racing, the Sailing Team was excited to share their love for the sport and spread the word about the Sea Bags' sail trade program, where individuals can receive products in exchange for retired sails. One of their competitors, a dad from Canada, spoke to a part of the team's mission when he told them, "I love what you're doing. I'd love for you to talk to my 9 and 12-year-old daughters."
The Sea Bags' Sailing Team next event will be the J/24 East Coast Championship in Annapolis, Maryland from October 27-28. Be sure to like them on Facebook and Instagram to follow along on their journey.
Photo Credit: Christopher Howell & Sea Bags Sailing Team