SHARE YOUR
#SEABAGSIGHTING
Signup for email,
and Save 10%!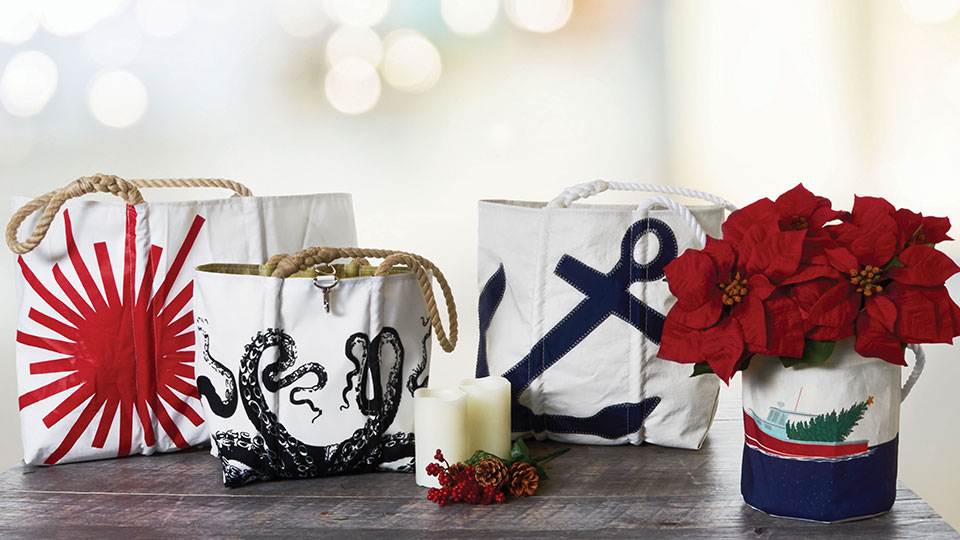 12 Easy Ways to Have a Sustainable Holiday Season
From cookie parties to Christmas Eve dinners, the holidays are a time to bring friends and family together to enjoy the spirit of giving. This year we have pulled together a list of 12 easy ways to make this holiday season a more sustainable one for you and yours.
12/19/19
1. Use a Beverage Bucket to create your own six-pack

Go without cardboard and use one of our beverage buckets, they are easy to carry, durable and washable. A great alternative for carrying drinks and they double as a bag for leftovers.
2. Give a gift that gives back

Gifting a product that gives back is a great way to make a social impact this year. Make twice the impact by giving a sustainable Sea Bag -- where 20% of sales benefit one of these causes: the Maine Cancer Foundation, the

Children's Museum & Theatre of Maine

and the Sea Bags Women's Sailing team.
3. Eliminate the gift bag and create a gift that's all in one

Instead of reaching for a holiday gift bag, pick a sustainable alternative. Our buckets are a great way to eliminate the waste created by gift bags. Buckets are a great alternative for holding gifts both big and small.

4. Bring reusable bags to the grocery store

Heading to the grocery store to prepare for holiday guests? Skip the plastic grocery bag and stock up on reusable shopping bags and spinnaker sacks.
5. Choose decor made from recycled materials

Buying and storing decorations each year is easier when you use natural decor. Head out for a walk and bring home spruce branches and wintergreen berries to dress up your mantelpiece. Finish off your display with easy to store decorations like our sustainable sail cloth stockings.

6. Create a sustainability kit to use when traveling

Keeping your essentials on hand is an easy way to reduce waste when traveling. Fill a wristlet with reusable utensils, straws, and cleaner then bring your own water bottle to refill as you go.
7. There's nothing wrong with re-gifting

Celebrate Regifting day (12/18) this year and save a gift from the holidays or use one of our wine bags to start a cycle of sustainable gift-giving.
8. Minimize additional waste when shipping packages

Reduce waste when shipping and use old newspapers, catalogs or even used wrapping paper. Shipping something that isn't breakable--adopt our philosophy. At Sea Bags, we ship all of our bags without packaging creating zero waste. This keeps the weight of our packages at a minimum and saves the recipient recycling and disposal on the other end.
9. Support local businesses and USA manufacturers

Shop local and reduce your environmental impact while investing in your community. Small businesses are the largest employers nationally. By supporting these stores you are creating local jobs and keeping tax dollars in your community to help your city grow.
10. Take a creative approach to gift tags

Reuse items from around your house to create custom gift tags for each of your gifts. Have a craft night and use strips of newspaper, a Sea Bags hangtag or old Christmas cards to create recycled gift tags.
11. Make sure it's a gift they'll love- give an e-gift card

Avoid creating waste and let them chose their perfect gift with an e-gift card. Go with an e-card to minimize the number of physical cards that end up in landfills.
12. Substitute items around the house for gift wrap

Reduce waste and choose to wrap your gift in recycled materials. Wrap your gift in a variety of ways from an old map to your child's artwork. Have a build-up of paper grocery bags from the store? Grab some crayons and a stencil to create your own custom holiday designs.