Custom Design Ogunquit Beach Tote
Do you have an idea for a design you'd like to see on a bag? Collaborate with our designers to create a personalized tote that features your unique design, pattern or text. Our popular Ogunquit Beach style tote has a back pocket for wet swimwear and multiple interior pockets for organization. Your bag will then be made from reclaimed sails, by hand, on the working waterfront in Portland, Maine.
Back Pocket & Bottom Color Options:

Design your tote in 3 easy steps:
1. Choose your handles
2. Choose a back pocket color
3. Describe your design in as much detail as possible, keeping in mind the design option you selected. For the "Design On One Side" option, the design will only be on the front of the bag. For the "All-Over Print" option, the design will be on both sides of the bag and will be partially covered by the back pocket. Upload an image if you have something specific in mind. Our designers will email you to review their work and you will have a chance to make changes before our team crafts your order.

Please Note: Designs requiring custom printing or extensive design time may incur an additional fee. This item does not qualify for discounts.
Handcrafted from recycled sail cloth on the working waterfront in Portland, Maine, USA
Details:
Three deep interior pockets
Back stash pocket for wet items
Zippered interior pocket for valuables
Hand-spliced rope handles
Machine wash, line dry
Dimensions:
Large: 18" l x 6"w x 14" h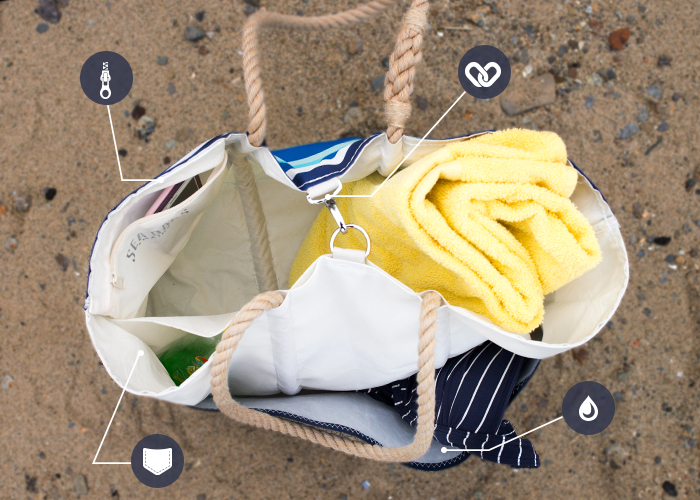 Important information about your custom order
We value your creativity. Please provide us with a detailed description of your design. When possible, upload a reference photograph.
Designs requiring letters look best with a maximum of 5 characters. Additional characters may require a fee.
You will be charged once you submit your order to begin the design process.
Once submitted, it may take up to 5 days to generate the computer-aided design (CAD). Once you receive it via email, let us know if there are any necessary adjustments, and we'll provide you with a second CAD upon request. Additional CADs are subject to a fee.
Custom orders are non-refundable.
Once your design has been approved, the production process will take up to 7 days, or longer to complete more intricate designs.
You will receive an email when the bag has shipped. Shipping takes 3-5 business days via FedEx Ground in the US and longer Internationally.
Each custom bag is stamped and signed by the maker to prove its authenticity. Our Sea Bags hang tag is the final touch.
Sea Bags owns the final artwork on any design files we create or modify to produce your Sea Bag with the exception of trademark protected art. All artwork we own may be used for both marketing and product development.