SHARE YOUR
#SEABAGSIGHTING
Signup for email,
and Save 10%!
Mother's Day Gifts That Give Back
Thirteen years ago, as part of our commitment to give back to our local community, we created a limited-edition recycled sail cloth Pink Ribbon Tote to support the important work of Maine Cancer Foundation. It was enthusiastically appreciated by our loyal customers and started an annual campaign to support organizations providing cancer support programs in Maine.
4/5/19
That unique partnership continues with the new Rose Gold-on-Navy Anchor Collection made from our signature recycled sail cloth. While recycled sails have been a staple at Sea Bags since we started, the rose gold metallic leather applique is a new embellishment we've never featured.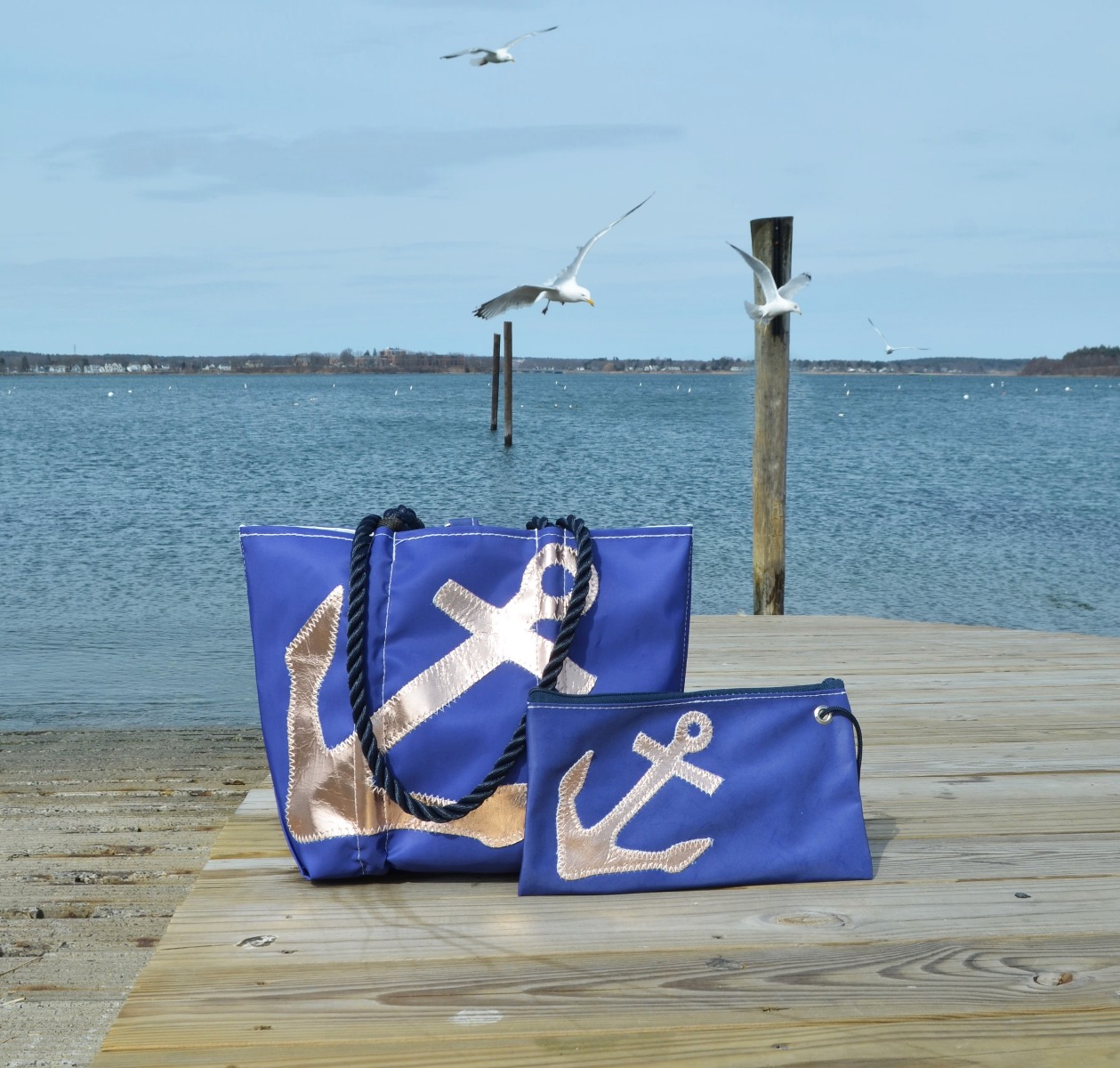 "This collection is the perfect gift idea for Mother's Day. It brings together our classic iconic anchor with this new, understated pink that reminds us of Moms. It also has a tie into cancer awareness and support for those fighting cancer in Maine."
Tara Knupp, Sea Bags Product Line Manager
The Rose Gold-on-Navy design will be available until Mother's Day in a handbag, featuring navy handles and clasp closure, as well as a large wristlet. Both uniquely feature the Sea Bags logo in rose pink as well. As part of our continued support of Maine Cancer Foundation, twenty percent of sales will be donated to their efforts to help fund cancer prevention and treatment programs in Maine.
We're proud to support the vital work of Maine Cancer Foundation. Their funding of a variety of statewide cancer support programs has led to important cancer research, increased cancer screenings, and helped provide more rides for cancer patients to treatments.
"We are working to change the story of cancer in Maine.
We're reminded daily why this work is so important. With the support of Sea Bags and other community partners, we are able to continue to expand our reach to help Maine people better navigate the maze of treatment and find the care they need."
Kelly Martin, MCF Director of Finance and Operations
As part of their cancer prevention and treatment programs, Maine Cancer Foundation created the "Challenge Cancer 2020" initiative, aimed at reducing cancer deaths by twenty percent by 2020.
"Since 2015, the Foundation has invested almost nine million dollars in Maine communities, and we continue to award funding to strong, innovative cancer support programs that have a proven track record of reducing cancer in our state. All of our funding stays in Maine."
Aysha Sheikh, RN, MCF, Interim Executive Director & Director of Programming
We hope you'll join us in our support Maine Cancer Foundation and its dedicated and passionate team of experts who are changing Maine's cancer story. If you need a gift idea for Mother's Day, consider one that gives to this important cause.