Superpower Daisy Life is Good Slim Crossbody

Each petal of this daisy displays a trait or action essential to the art of optimism. The image is lighthearted, but the emotions and attributes have real power. Let this flower, blooming with positive energy, remind you that you have the power to overcome obstacles and inspire others by focusing on what's good. Made in Maine from recycled sails, this slim bag lets you travel light with hands-free convenience.
Details:
In partnership with Life is Good ®
Silver Metal Zipper
Hemp double-braid dock line
Spot clean or machine wash
Handcrafted from recycled sails on the working waterfront in Portland, Maine, USA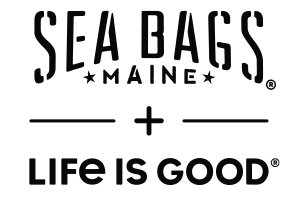 A Partnership in Optimism
Optimism enables us to explore the world with open arms and an eye toward solutions, progress, and growth. Through our partnership with Life Is Good, we are committed to spreading this message of positivity via our sustainable, made in USA products.