Life is Good Sunset Dock Wristlet

Here's a scene that's sure to reduce stress while it lifts your spirits. It's easy to recall enjoying the end of a perfect day on the water. We design our wristlets to be one of the most surprisingly useful bags you'll ever own. On its own, our wristlet holds the essentials for a dash to the market, walk to the dog park, or a night out. In a large tote or duffel, it contains small items and makes them easy to find. A wrist loop gives you hands-free convenience.
Details:
In partnership with Life is Good ®
Navy Zipper
Navy cording through grommet
Machine wash, line dry
Handcrafted from recycled sail cloth on the working waterfront in Portland, Maine, USA
Share your #seabagsighting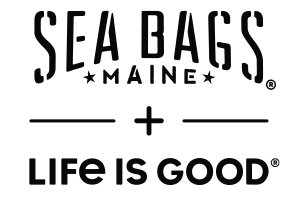 A Partnership in Optimism
Optimism enables us to explore the world with open arms and an eye toward solutions, progress, and growth. Through our partnership with Life Is Good, we are committed to spreading this message of positivity via our sustainable, made in USA products.