Life is Good Palm Tree Tote
Take a little bit of paradise with you wherever you go. The end of a bright, hot day on a remote stretch of beach is captured on this tote made for days in the sun and sand. The recycled sail cloth is lightweight yet tough, so you don't have to worry about water, weather, or heavy loads. When it needs a refresh, just toss it in your washing machine—easy, breezy.
Details:
In partnership with Life is Good ®
Hand-spliced hemp rope handles
Machine wash, line dry
Dimensions:
Medium: 14" l x 5.5"w x 14" l
Handcrafted from recycled sail cloth on the working waterfront in Portland, Maine, USA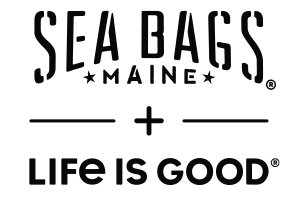 A Partnership in Optimism
Optimism enables us to explore the world with open arms and an eye toward solutions, progress, and growth. Through our partnership with Life Is Good, we are committed to spreading this message of positivity via our sustainable, made in USA products.